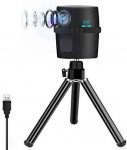 ZasLuke Webcam, 1080P HD USB QuickCam Intelligent Motion Tracking Camera, Built-in Dual Noise Canceling Microphone, 270°Rotation Smart Tracking Streaming Webcam for Zoom Skype Facetime, PC Mac Laptop

Price:

$59.99




Product Description
Be there to share moving moments with the height of video-calling freedom.
Intelligent motion tracking camera – Are you tired of moving or adjusting your cellphone to the right angle when doing a live stream or online video? Want to capture life's precious moments without the help of others? You've come to the right place. Our smart trackingwebcam will save you so much trouble.
What is intelligent motion tracking webcam?
Our webcam will automatically detect the closest person in the monitoring range and track its motion trajectory, so that you can move freely in video conferences and online courses without manually adjusting the angle of the camera.
With the limitation of wide angle, the field of view is wider. And will automatically focus, so that you are always in the center of the lens. And you can switch non-tracking mode at any time to protect your privacy.
Welcome to choose ZasLuke USB webcam and start your Smart Life!
The Smart Tracking webcam is equipped with Face Tracking Technology that is used to detect face positions, movement direction. The lens rotates as your face moves (maximum rotation is up to 270°), which means this Smart Tracking webcam is always pointing at you. It is the perfect choice for Instagram, Facebook, YouTube, TikTok Video Vlogging, Live Video, live streaming, and more.
Installation steps
Insert the included USB cable into our device and your computer, and wait for the device to complete the self-check.
Within 3 seconds after the detection is completed, the intelligent motion tracking camera will start intelligent tracking.
Short press "Pause/Resume Button" to pause the motion tracking mode and press again to resume follow – up mode.
Please Note:
If you are using a laptop, please use this webcam with the laptop connected to the power supply.
Please Note:

Please do not move too fast. If your computer (laptop) has a built-in camera, you need to change the default camera settings. Such as change the default camera in the chatting software setting. This intelligent motion tracking camera can only track the human motion, not animals and other moving objects. lf you use this Webcam to connect to a laptop or other device with a built-in camera, it may conflict with the device's own camera, so you need to choose which camera you want to use or disable the built-in camera.Such as change the default camera in the chatting software setting.
Real Full HD 1080P

This PC webcam with facial and beauty enhancement technology provides you with premium quality video that makes you look best. You can connect with everyone in FULL HD 1080P on all of the most popular video calling software.
110° Wide View Angle

With 110° wide view angle, the webcam is specifically designed for professional video conferencing, webinar and many other video occasions.
Built-in Denoising Mic

The built-in noise reduction microphone can eliminate background noise. With echo-canceling and Stereo technology, the person you are chatting with will enjoy the clearer and natural voice.
Plug&Play

This USB webcam is easy to use, no driver required, just plug and play; The premium flexible tripod makes the height can be adjusted freely.
【Full HD 1080P SmartCam】: This USB SmartCam with HD 1080P Video at 2 million pixels and 30 frames per second for High Quality Video Conferences on PC or Mac. Auto-Focus (within 10cm-300cm)webcam catches ideal focus positions as you move, making it easier for you to get clear images/ videos.Short press "Pause/Resume Button" to pause the follow – up and press again to resume follow – up mode, you can adjust the automatic tracking as you wish.
【Built-in Stereo Microphone】: USB 2.0 interface, just plug and play. This Webcam's built-in digital stereo MIC with Automatic Noise Reduction and Echo-canceling technology makes the sound purer clearer and natural, pick up your voice even at 5m distance to make sure everyone hears clearly. Allows you to enjoy clearer sounds and easier communication.Note:If you are using a laptop, please use this webcam with the laptop connected to the power supply.
【Freely Adjustable Height Tripod】: A tripod with freely adjustable height is included to make the camera more stable, and when your device is too thick and the ordinary camera cannot be clamped, our camera can be very suitable for you. Pull the bottom of the tripod to adjust the height of the tripod (within 14-20cm). You can adjust it as needed.
【Wide Compatibility】: The webcam supports for Windows 2000/XP/7/8/10 or above, Mac OS, Chrome OS, Linux or higher version. This streaming webcam provides wonderful video on Skype, Facetime, OBS, Facebook Live, Youtube and most other video software, which makes it perfect for conferencing, recording, video calling, and live streaming to to satisfy your various requirements.
camera for pc,#ZasLuke #Webcam #1080P #USB #QuickCam #Intelligent #Motion #Tracking #Camera #Builtin #Dual #Noise #Canceling #Microphone #270Rotation #Smart #Tracking #Streaming #Webcam #Zoom #Skype #Facetime #Mac #Laptop