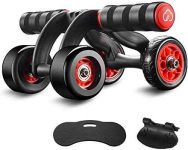 YUNMAI AB Roller 4 Wheel Abdominal Foldable for Women Men Gym AB Wheel Design Multipurpose Durable Trapezoidal Quiet with Brake and Knee Pad Exercise Gym Home Office (Black)

Price: $21.99 - $17.62


Product Description
WHY CHOOSE YUNMAI AB ROLLER 4 WHEEL

Soft rubber wheels
The Trapezoidal design of the AB roller wheel fully exploits the stability with 4 wheels which provide 4 support.
The flexible elastic rubber covered with 4 wheels never damages the carpet or parquet.
Anti-skid tire
Created automotive grade anti-slip technology, and strong grip, the abdominal roller wheel refuse to skid. Lock nut to enhance safety and TPE soft wheel, not to damage the floor.
Noiseless Each wheel is equipped with 2 bearings, smooth running, noiseless, perfect for indoor training. Solid and durable.
Comfortable TPE handle
Ergonomic handle of the AB roller is covered with EVA foam, comfortable to grip, reducing friction and muscle fatigue. Non-slip and wear-resistant handle ensures maximum stability, control and comfort.
Robust structure

Crafted with high toughness engineering plastic and thickening wheel frame, the ab roller wheel bears stronger. Built-in thickening steel pipe, and adopted silent bearing, the abdominal exercise equipment
More stable of 4 wheel

With stainless steel bar and muffler bearings for durability, YUNMAI roller wheel gym provides smooth movement and excellent load capacity.
More stable support 4 wheels will provide 4 support points, making the AB roller more stable when using without rolling or tilting. it reduces the risk of muscle damage.
Package Includes :
1×ab roller
1×resistance brake
1×Soft non-slip Kneepad
YOUR PERSONAL TRAINER

The AB roller wheel acts as your personal trainer – helping you build stronger and bigger abs, burn calories, build muscle, and improve your overall endurance.
Abdominal Wheel helps you train the abdominal muscles, oblique muscles, hip flexors, legs, shoulders, chest and triceps, making it the essential abdominal muscle wheel for your abdominal training.
4 NON-SLIP TEXTURED WHEELS: Our ab roller 4 wheel offers the stability of the rolling movement benefited from the trapezoidal design, which is safer and suitable for beginners. It is compact, light and portable.
STRONG AND DURABLE: YUNMAI 4-wheel self-rebound abdominal made of high quality material with high durability and robust construction, perfect for long-term use. With daily maintenance, you will transform sexy curves. It is fully assembled for immediate use.
AUTOMATIC REBOUND DESIGN: The abdominal roller is ideal for burning calories, improving abdominal resistance and developing abdominal muscles. When pushed into a compact state, the abdominal caster recovers to easily reset and exercise your abdominal muscles. Quiet Each wheel is equipped with 2 bearings, smooth running, quiet, first choice for home exercises and indoor training.
MULTIPURPOSE MUSCLE TRAINING: With slimming and fitness, beautiful appearance and easy to carry and use, the best choice to exercise the muscles of the waist, abdomen, chest, arms, back and shoulders with our ab wheel roller.
PROTECTION: Your non-slip abdominal wheel comes with 2 free bonus gifts including the knee pad and a brake. The abdominal wheel kit is equipped with an improved knee lifter. The wide and comfortable knee pads protect your knees from injury.
weight loss gadgets,#YUNMAI #Roller #Wheel #Abdominal #Foldable #Women #Men #Gym #Wheel #Design #Multipurpose #Durable #Trapezoidal #Quiet #Brake #Knee #Pad #Exercise #Gym #Home #Office #Black