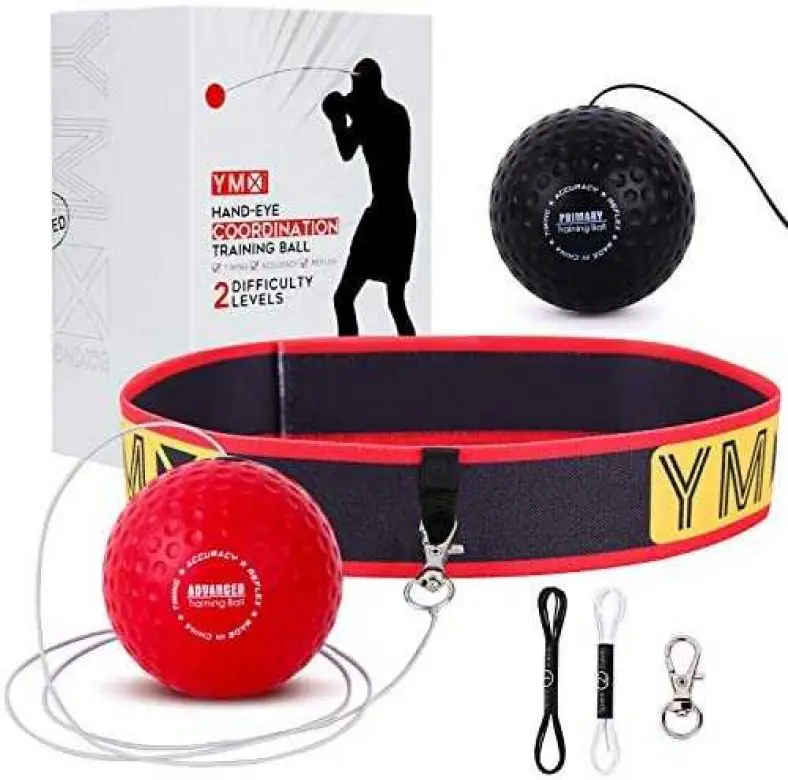 YMX BOXING Reflex Ball on String – Fight Ball with Adjustable Headband,Soft Foam Balls – Improve Hand Eye Coordination, Reaction Speed, Focus, Accuracy – Cardio Sports Exercise Equipment

Price: $9.99 - $6.99


FAQ
Is this an appropriate gift for an 8 year old?
Yes! It's great for eye-hand coordination! Added bonus it gets the kids away from playing video games or watching YouTube all day!
Is this boxing ball more of a toy or an actual boxing training product?
It's an actual boxing training product if you choose for it to be. It's great for eye-hand coordination. FYI its not as easy as it looks. You can watch YouTube videos of pro boxers using products like this. BTW, it is also fun for kids as well.
Would this be something that an elderly person could use…..either seated or standing?
Sitting or standing would not matter, but even with the black ball you would need some quicker reflexes. But it does not hurt if it hits you.
Can the ball hit back my face?
Yes it will, and you might 'face' (get it?) a grizzly death as a result. Or, because these reflex balls are so incredibly light, that even at full speed return, they wouldn't hurt a Teacup Poodle.
It's not that easy as I thought. How can I get the hang of it?
When using it of course you're not gonna get the hang of it at first. But practice makes perfect. Start slow one punch at a time to get used to the balls movements, then as you practice more you'll get used to the balls movements and will start connecting more punches.
This looks interesting, but what exactly is it supposed to do for me?
Improves your reflexes like slipping a punch also great for working on your timing like hitting a double end bag. It's great for hand eye coordination, speed, and family challenge time.
Do you have to wear boxing gloves or can you just use your fist?
Just use your fist. Boxing gloves aren't required and it would take away from the workout using this product.
Can I adjust the length of the string?
Yes. You can adjust the length by twining it around the headband.
✅ FOR NEWBIES & PROS – Our reflex balls allow anyone to train, including kids and the elderly! The Primary reflex ball has a lower bounce speed, while the Advanced training ball bounces like a regular reflex ball.
✅ IMPROVE REACTION TIME – This boxing reflex ball boosts your reaction speed, timing, and punching accuracy, making it an excellent training tool for boxers and MMA, muay thai, and kickboxing fighters.
✅ SNUG FIT – Our reflex ball features a fully adjustable elastic headband, providing a comfortable fit for kids and adults. Train without worrying about the headband falling or slipping off.
✅ BURN MORE CALORIES – Just using our reflex training ball for 15 minutes per day can burn off more than 200 calories, allowing you to hit your fitness and weight loss targets in less time.
✅ TRAVEL-FRIENDLY SIZE – Our reflex ball fits easily in your gym bag, backpack, or pocket, allowing you to train anytime, anywhere. It is also made of durable materials that will endure daily use.
weight loss gadgets,#YMX #BOXING #Reflex #Ball #String #Fight #Ball #Adjustable #HeadbandSoft #Foam #Balls #Improve #Hand #Eye #Coordination #Reaction #Speed #Focus #Accuracy #Cardio #Sports #Exercise #Equipment