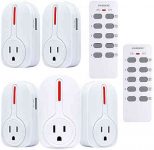 Wireless Remote Control Outlet, Kasonic Smart Home Remote Control Multi Purpose Combo Set [5 Electrical Outlets + 2 Remote] Perfect for Household Appliances and Devices; ETL-Listed

Price:

$17.99




Product Description
This Wireless Remote Control outlet switch set allow you to command complete remotely control hard to reach appliances and devices.
Industry-leading range and strong remote signal, A strong RF signal works and through doors and walls without interfering with other electronics, allowing convenient control over small household appliances from across rooms or on second floors. also, It's perfect for apartments, studios, and small businesses. with this little device, you can control your electronic devices easily, no matter if it is in your bedroom and kitchen.
There is no more trouble in turning the light off or on, no matter it is in cold winter, hot summer and dark night.
Remote Range

Over 100 feet Control electronics in hard to reach places Lights, modems, speakers, video game systems, fans, garage doors.
ETL Certified. FCC approved for safety and quality.

Technical Specification: Power Input: 120V/60Hz Power Output: 1200W/10A (MAX) Transmission Frequency: 433.92MHz Remote Battery: DC 12V 23A (INCLUDED)
Voltage Over Usage Warning: Maximum capacity of the power input is 120V/60Hz. And Maximal Power Output: 1200W/10A
Countries with voltage at 220V and above are not allowed to use:China, Australia, or most countries in Europe. If this device is used improperly in the countries listed above, there might be a potential to cause a burn due to the voltage over capacity.
Combo Set
Wireless Remote Outlet allows you to control up to 5 electrical outlets with 2 remotes. suitable for any indoor use. you can control appliances or lights from anywhere in your space, adding convenience, automation, and security. of course, each outlet receiver can be manually switched. Strong RF signal works through doors and walls without interfering with other electronics.
Go green and save on your electrical bill
Eliminate wasted power on unused lights and appliances. Turn off lights and appliances anywhere in your home. The socket will remain off after a power interruption to save energy.
Offers great convenience for the mobility impaired
The outlets can offer assistance to the mobility impaired, giving users instant control over lamps, televisions, and more with a simple press of a button.
Package Includes:
5 x Electrical Outlet Socket 2 x Remote 2 x Remote Battery 1 x User Manual
MOST CONVENIENCE – Best for people who is hard-to-reach the appliances. use the remote or the outlets themselves to turn your appliances on and off. great with almost any indoor electronic device, including household appliances, lights, audio sound systems, holiday decorations, and charging devices. This is a great assistant to the mobility impaired.
[Multiple Pairings] Pair one remote control with up to 5 outlet adapters/receivers and master "ON" and "OFF" controls for all paired devices.
HIGH QUALITY – ETL Certified. FCC approved for safety and quality assurance. Strong RF signal works through doors and walls without interfering with other electronics, operating from as far as 110 feet for the remote-control outlets in the line of sight.
SAVE MONEY – Eliminate wasteful standby power and reduce energy use, save on your electric bills and extend product life. The remotes battery is included.
HASSLE FREE INSTALLATION – This Wireless Remote-Control Outlet kit contains everything you need to start. simply plug and play or sync up the outlets to suit your needs.
home appliances,#Wireless #Remote #Control #Outlet #Kasonic #Smart #Home #Remote #Control #Multi #Purpose #Combo #Set #Electrical #Outlets #Remote #Perfect #Household #Appliances #Devices #ETLListed