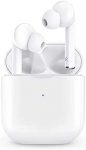 Wireless Earbuds, Stable 5.0 Bluetooth Earbuds,Bluetooth Headphone with Charging Case,HiFi Quality Sound and IPX5 Water-Proof Wireless Headphone

Price:

$19.99




From the manufacturer
Wireless life, endless possibilities.

Does the wired headphone become messy or even tied up to your chagrin?R09 wireless earbuds can offer you not only a pair of wireless headsets, but also an unfettered attitude to life.The maximum connection distance is 10m / 33ft, so you can enjoy your favorite albums while doing housework with your mobile phone only on the sofa. There won't be any limited between you and headphone. You can jump you can run you can even dance around. With this wireless earbuds, start your new wireless life.
Life is beautiful for Music.

Are you tired of noise from the outside world? Do you just want to enjoy the wonderful music for yourself without being disturbed by others?Wireless Earbuds adopt the most advanced Bluetooth 5.0 technology.The high degree of compatibility allows it to run on all your devices-mobile phones, tablets, PCs, laptops, game consoles and even smart TVs,Just shake with the music.R09 wireless headphones are equipped with a large aperture dynamic driver, which brings powerful bass, clear vocals and crisp high tones, making you feel like in the center of the stage and feel more realistic music. Built-in noise cancelling HD MIC, you'll experience a new crystal-clear phone call.Wireless's life is such awesome and fantastic.
Free your passion and your heart.

Simple design and one-button control-under simple guidance, these earbuds give up the quirky appearance, but retain the white appearance and a multi-function button, which can complete all operations, such as music switching or pause, answering or rejecting calls, You can even call your virtual assistant. The ergonomic shape and moderate size make it suitable for the ears of adults and children.The lightweight, safe and comfortable fits your ears perfectly, you won't feel uncomfortable even if you wear them on your ears for a long time. It will not rub, slip, or fall during exercise.
More detail about the earbuds.

Maximum duration of continuous music playback for a single earbud: 4 hours ;The maximum use time of the earbuds including the charging compartment: 24 hours ;The maximum capacity of the earbuds compartment: 400mAh ;Charging time required for charging compartment: 2 hours ;The longest standby time of two earbuds: 50 hours ;The farthest stable connection distance: 15 meters/49 inches.
[Stable connection and quick pairing] Using a stable version of Bluetooth 5.0 technology. Only the first connection needs to be paired. After the first pairing, the device does not need to be paired again. You only need to take the earbuds out of the earphone compartment to connect directly. A stable connection allows you to have a good experience in confined spaces or outdoor environments.
[Longer use time for large capacitors] Using the latest research and development of battery cell technology. Our earbuds have greatly improved in terms of battery performance. The use time of a single earbud is about 4 hours. It can offer a 24hours long time use with charging case. Earbuds can offer 50hours long time stadnby. The earbuds can be fully charged 4-5 times in the charging compartment. Extend your wireless time and enjoy more music.
[Lighter and more comfortable] The weight of a single earphone is only 4 grams, and the shape of the earphone is ergonomically designed. Even if it is worn and used for a long time, it will not cause any discomfort or pain.The mini size is 2.16 inches long, 1.97 inches wide, and 1 inch high. The weight of the headset plus the charging compartment is only 0.31 pounds. It fits in a pocket or bag for easy carrying.
[Waterproof Wireless Earbuds] Using high-density molecular materials. It can prevent sweat from penetrating into the earphones. In addition to sweat, it can also prevent any direct damage to the inside of the earbuds caused by fog, dew, fine rain, and humid weather. Allows you to enjoy music while doing sports.
[Excellent quality, music enjoyment] Built-in microphone with noise reduction function. Using high-quality graphene materials, the sound input and output can reach the maximum degree of fidelity.The vibration caused by the high-density magnetic coil can fill the sound with more details. Whether it is during a call or during music playback, it can be restored to lossless sound quality.
wireless headphone,#Wireless #Earbuds #Stable #Bluetooth #EarbudsBluetooth #Headphone #Charging #CaseHiFi #Quality #Sound #IPX5 #WaterProof #Wireless #Headphone