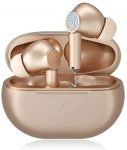 Wireless Earbuds Headphones Bluetooth 5.1 Headphones Noise Canceling IPX6 Waterproof Earphones in-Ear Built-in Mic 3D Sound Headsets Compatible with iPhone/Android/Samsung for Work Home Office(Gold)

Price:

$16.99




Product Description
One Step Pairing
How to pair: pick up two earbuds from charging case; turn on the Bluetooth of your phone and choose " A1 ".
Voice assistant
Press the left/right earphone for two seconds for activate Siri.It's can help you switch music, answer calls, and check weather information.
Premium Sound Quality
With the upgraded acoustic components, A1 wireless earbuds provide you rich dynamic bass and crisp clear treble.
Lightweight and Portable
You can easily place the case in your pocket and take music with you wherever you go.
Extended Playtime
Enjoy up to 3-4 hours of non-stop listening. The charging case provides an extra 8 hours of power.
Standard Packaging
Earphone*2 Charging case*1 Charging cable*1 Manual*1 Earplugs*3 (one pair on the headset, two pairs in the box) Storage bag*1
🎵【Latest Bluetooth 5.1 With Powerful Charging Case】The bluetooth earphones provide strong connectivity by adopting Bluetooth 5.1 techonology and high sensitivity antenna. They deliver Hi-Fi sound and have natural and superb sound performance with focus on getting a clear midrange, a balanced bass and treble performance. Fantastic TWS (True Wireless Stereo ) technology allows you to enjoy music without cord tangling troubles. The working range is up to 33~60ft.
🎵【Smart Touch Control & Ergonomic Design】With Ultra-light weight less than 6g and ergonomic redesign, A1 wireless earbuds can fit your ears perfectly. No stressful when you put them into your ears, no pain even if long time using. Smart Touch Control design rather than button operated, more sensitive and simpler, extricate yourselves from the trouble of physical button.
🎵【Longer Playing Time and Portable Charging Case】Thanks to the low power consumption, fully charged Bluetooth headphones can play non-stop music for 3-4 hours in standby mode and charge for 48 hours in standby mode. Compact and super light Charging Case with built-in 260mAh battery, up to 2 times fully charged for bluethooth headphones (fully charged approx. 1-1.5hours).
🎵【Stereo Experience & IPX6 Waterproof】 With a wireless design, you are no longer disturbed by cables or tangled cables. A perfect choice for running, jogging, cycling, working out in the gym and you don't have to worry about Bluetooth headphones mixing with your hair. IPX6 Waterproof protects your headphones from sweat, water, rain, etc.
🎵【One Touch Control】Two Independent Wireless Earbuds That Connect Wirelessly to Form a Stereo Pair, Besides, The Earbuds can be Used independently. Smart Control with ONE TAP/DOUBLE TAP/LONG PRESS, simple and easy to control. You can even skip to your previous/next song, or receive/reject phone calls.
wireless headphone,#Wireless #Earbuds #Headphones #Bluetooth #Headphones #Noise #Canceling #IPX6 #Waterproof #Earphones #inEar #Builtin #Mic #Sound #Headsets #Compatible #iPhoneAndroidSamsung #Work #Home #OfficeGold