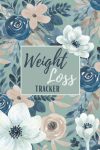 Weight Loss Tracker: With Meal Diet Planner – Motivation for Healthy Living – Track Food & Water Intake, Weight Loss Diet Goals & Progress, 6×9″, Undated

Price:

$6.95




Weight Loss Tracker
Would you like to keep track of your calories and workouts? This motivational food journal helps you to achieve your weight loss or fitness goals faster and stay on track.
Pre-formatted Fitness Notebook:
✓ Measure your body (weight, arms, chest, waist, hips, thighs, BMI) to record your objective and the first day
✓ Daily Food Intake – Record your breakfast, lunch, dinner and Snacks / nutritional content
✓ Water Intake – Make sure you drink enough water
✓ Track Sleep Hours
✓ Size: 6 x 9″ , 120 pages
Perfect for women and men and as a gift idea. Use the planner daily to stay motivated and committed to your weight loss journey.


weight loss diet,#Weight #Loss #Tracker #Meal #Diet #Planner #Motivation #Healthy #Living #Track #Food #Water #Intake #Weight #Loss #Diet #Goals #Progress #6×9 #Undated