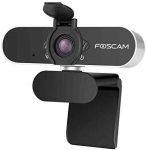 Webcam with Microphone for Desktop Laptop, Foscam 1080P HD USB Streaming Web Cam for Conference, Gaming, Courses, Flexible Mount, Privacy Cover Inlcuded, Business Grade

Price:

$29.99




Product Description
85° Wide Viewing Angle
A high quality CMOS image sensor and 85° wide angle lens make this webcam great for clear feeds and smooth participation in webinars, video conferencing, online courses and live shows.
Plug & Play
Just plug the USB connector into your computer and the webcam is ready for use almost instantly (no driver installation necessary).
Universal Clip Mount
Place the webcam anywhere you need with the included universal clip mount, which has an ultra-versatile swivel radius of 360° and features a tripod thread for optionally attaching the webcam to a camera tripod.
5ft 2.0 USB Cable Included
No external adapter is needed because the webcam is powered by an included universal 2.0 USB cable. The 5ft length of the cable allows you to easily place your webcam at the front your conference room to include all conference attendees in its view.
👍【 Webcam with Microphone, Business-grade Noise Reduction & 85° Wide-Angle View】: This webcam's integrated noise-reducing microphone ensures that your comments and ideas come through to listeners in crystal clear, superior stereo audio. This model's extras include an 85° wide viewing angle, so you'll never look and feel boxed in by a tiny recording area.
👍【Streaming Webcam with Privacy Cover & 360° Rotatable Mount】: This computer webcam allows you the peace of mind of always knowing your privacy is protected when you close the lens cover. Never worry about the prying eyes of web hackers. Security & privacy are Foscam's gold standards, as a manufacturer of high quality electronics for over 12 years. This webcam also includes a rotatable universal clip mount for easy use with virtually any device or surface.
👍【Standard Plug & Play USB Webcam】: Simply insert the 2.0 USB Cable into your machine and get started – no driver installation necessary. Supports a wide variety of computer operating systems, gaming machines, video calling applications, streaming platforms, etc.
👍【Ehanced Light Correction Technology】: This steaming webcam is built in light correction technology which helps you get sharp image and streaming video in a place with not much light. WDR fucntion also can help avoid overexposure when light is too dazzling.
laptop camera,#Webcam #Microphone #Desktop #Laptop #Foscam #1080P #USB #Streaming #Web #Cam #Conference #Gaming #Courses #Flexible #Mount #Privacy #Cover #Inlcuded #Business #Grade