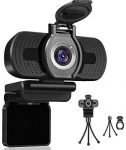 Webcam with Microphone, Dericam 1080P Webcam, Desktop Laptop Computer USB Web Camera with Privacy Cover and Tripod, Plug and Play for Video Streaming, Conference,Gaming, Online Classes

Price: $29.99 - $18.89


Product Description
Dericam Makes You Enjoy Happy Online Chat Time

Widescreen HD 1080p video calls
Experience sharp, smooth video calling (1080p/30fps) in a widescreen format on your favourite platforms like Skype. At 30 frames per second, video quality is smooth and lag-free, while images are crisp, colourful and contrasted.
For Online Chating, Gaming and Streaming Live
Designed for streaming gaming live at most of game platform and social media like Facebook, Skype, Messenger, Hangouts, Youtube and so on. Suitable for video recording, video conferencing, live streaming, professional meetings, and coaching.
Highlights:
High-Def Video Calls
Built-in Noise-Reducing microphone
USB Plug and Play
HDR (High Dynamic Range)
Automatic Low-light Correction
PROTECTS YOUR DIGITAL PRIVACY

Protect Your Privacy!
Webcam camera hacking is widespread.
The only way to protect your privacy is to cover the camera when you are not using it.
Dericam HD Webcam is designed for people who like to have more privacy, security and peace of mind !
Easy to install and use
You can easily tear off the back sticker; then attach it to your webcam; Press webcan cover firmly in place and hold for about 12 seconds for a strong but non-permanent seal.
Warm tips: Clean our webcam with the cloth included before sticking the webcam cover.
Built-in Noise-Reducing Microphone Attention!
This is an analog microphone!
Built-in sound absorption microphone, your voice is heard clearly in 30 feet, which means you do not have to come near to kiss your camera awkwardly.
Quick and Easy Set-Up
Get ready right away without having to worry about installing drivers. Easily connect this HD webcam to your computer and video chat with Skype, Windows Messenger or your favorite instant messaging application.
Adjustable Mount and Save Space
Get up and running immediately without having to bother about installing any drivers.
An integrated mounting clip gives you the freedom to position the camera wherever it works best – on the LCD screen, notebook or on the table.
Automatic Low-light Correction
Stream clear video, even in dim light. Video automatically adjusts to accommodate shadowy or harsh lighting conditions.
DRC Digital Wide Dynamic
Even in dim light, shadowy or harsh lighting conditions,you will get the best image and stream clear video.
Full HD 1080P Webcam. Dericam USB camera comes with a full HD glass lens, giving you stunning clarity and detail. The glass lens of hd webcam captures sharp images to provide consistent high-definition quality. Automatic low light correction makes you see clearly even in dim or poorly backlight settings.
USB Webcam Built-in Microphone. Built-in noise reduction microphone can automatically eliminate distracting background noise natural and clear sound and clearly capture sound within 5 meters when it working. Achieve real studio-quality sound, it becomes the best choice for video conference or recording.
Computer Web Camera. Dericam Laptop webcam works with Skype, Zoom, FaceTime, Hangouts, PC/ Mac/ Laptop/ Macbook/ Tablet. This tv webcam operates in HD 1080p video at 30-fps, whether you're on Skype or streaming yourself gaming delivers crystal clear images.
Multi-Use USB Webcam. USB driver and automatic installation, just Plug and Play with a USB 2.0 cable, system reads the hardware drive automatically no additional drivers or download software required. Computer webcam compatible with multi-operations: Windows 7/8/10, Windows 2000, Windows XP, Mac OSX, Android 4.0 or higher operating systems.
Webcam With Privacy Cover and Tripod. We will provide Privacy Cover and Tripod Stand for you. Dericam HD Webcam is designed for people who like to have more privacy, security and peace of mind.
camera for pc,#Webcam #Microphone #Dericam #1080P #Webcam #Desktop #Laptop #Computer #USB #Web #Camera #Privacy #Cover #Tripod #Plug #Play #Video #Streaming #ConferenceGaming #Online #Classes