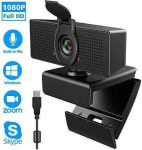 Webcam with Microphone, 1080P HD Webcam & Privacy Cover, USB Plug and Play Laptop PC Desktop Web Camera, 110-Degree View Angle Computer Camera for Video Calling Recording Conferencing

Price:

$39.99




Product Description
1080P Web Camera
1080P high-definition web camera, 2 Million pixels and true color images. Auto focus speed, support 1080p video call, smooth picture, frame rate can reach 30 FPS. With automatic low light correction and high dynamic range(HDR) technology, this webcam provides a stream clear video even in dim light and facial-enhancement technology optimizes your image automatically, bring you confidence !
Built-in Noise Canceling Microphone
Upgraded noise canceling microphones and audio processing chip will detect noise to automatically reduce distracting background noise for natural and clear sound when it working. Great for Video and Audio Conferencing, Web Conferencing, Webinars, Screen Sharing, Online Chatting, Gaming.
Multi-software Application
This streaming webcam works with most of the systems and software. Compatible with Windows 7/8/10 and above, Mac OS, Linux, Ubuntu, Smart TV, Android 5.0 or higher operation systems. It also supports majority live broadcast platforms and software, like Skype, Zoom, OBS, YouTube, Facebook, Twitter, Twitch, XBOX ONE, Mixer, Xsplit, Talkline, Hangouts, Face Time, MSN, Talkline, PotPlayer, ect.
USB 2.0 Plug and Play Webcam
The USB 2.0 connector is easy to plug in, it means you don't need to set up or install any complicated driver software. Great for Video and Audio Conferencing, Web Conferencing, Webinars, Screen Sharing, Online Chatting, Gaming.
110 degrees Wide-Angle View
With a generous 110-degree field of view, it can capture teams and whiteboards with ease, show friends more of you in 16:9 widescreen, easy to stream video, share your recorded videos or pictures. Perfect for online class, video chats ,web conferencing, live streaming, video broadcast recording.
360 Degree Rotation & 180 Degree Clip Folding
The flexible adjustable clip support 360 degrees horizontal adjustment and webcam clip can be adjusted in 180 degrees. Can be stably placed on the desktop and clamped on the display (does not damage the screen), you can adjust the angle as you like. Securely access to any laptop, LCD monitor, desktop or tripod.
FAQ

FAQ 1: Why is the screen blurry and there is no 1080P effect?
A: It depends on your software supports. Some social or conference software, the default setting is 480P or 720P, so it will result in a poor webcam experience, you can set the resolution of the corresponding software. (2) It is possible that the screen resolution of the computer itself is causing a poor overall webcam resolution experience: right-click on a blank space on the desktop of the computer and select "Screen Resolution".
FAQ 2: Why does my USB camera plug into my computer and a pop-up window shows that the device is not recognized?
A: 1.Select "Manage" in the right-click menu of "My Computer" and select "Computer Management (Local)" → "System Tools" → "Device Manager" in the pop-up window,
2.Then see if there is "Camera" or "USB Video Device" displayed in large window on the right.
3.If there is a display, it means that computer has recognized the USB camera and can be used normally.
FAQ 3: Why is the microphone sound low?
A: Improper microphone setting: WIN10 opens "Start Menu" → "Settings" → "System" → "Sound" → "Input" → "Device Properties", and turns up the microphone volume according to the specific situation. Other systems can also set the microphone volume.
2.Some computer sound cards and speaker hardware are different, so that resulting in low sound playback.
FAQ 4: Why does the microphone still not work even though it is being recognized by my computer?
A: This could mean there is communication issue happening between the camera and your computer.
Navigate to Computer Management > Device Manager > Sound, video and game controllers and click to expand the menu. Locate the HD Webcam USB option, right click and select "Uninstall device".
Once the webcam has been uninstalled, unplug the USB cord from your computer and then plug it back into the USB port. The webcam will automatically install the new driver. Wait about 1 minute and verify if the microphone is working properly.
FAQ 5: The video can be seen but the microphone cannot be used, there is no sound or the sound is weak?
A: If the computer has its own built-in microphone device: it will cause hardware conflicts and cannot be used. We only need to disable the corresponding microphone device.
【1080P Full HD Webcam & Light Correction】: 1080P Full HD webcam adopted with 6-layer glass lens and H.264 encoded compression, delivers razor sharp picture and high-resolution video at a fluid 30 frames/sec. Benefit from automatic light correction technology, computer webcam auto adjusts color and brightness for natural lighting, giving you a fantastic video recording or chatting time and the best look of even in low light condition.
【110 Degree Wide Angle & Stereo Microphone】: Fixed focus computer camera captures high def video and sharp pictures at a wide angle of 110-degree, the web camera builts in digital stereo noise reducing MIC that can automatically reduce distracting background noise for natural and clear sound even at distance, which is great for webinars, video conferencing, live streaming, etc.
【Advanced Smooth Live Streaming】: The 1080P HD web camera adopted facial-enhancement technology optimizes the image automatically, which makes you always looks best in chatting, recording, video calling, gaming, online teaching. Streaming webcam provides excellent quality video recording experience.
【Multiple Operating Systems】: The web camera supports mass operating systems, including Windows7/8 /10, Mac OS, Smart TV, Android 5.0 or higher version. USB camera can widely work with PC, Mac, Macbook, Laptop, Desktop, Computers. Compatible with most video chatting and recording software, like Skype, Zoom, Netflix, OBS, XBox, Face Time, Facebook, MSN, Yahoo, YouTube and other great projects.
camera for laptop,#Webcam #Microphone #1080P #Webcam #Privacy #Cover #USB #Plug #Play #Laptop #Desktop #Web #Camera #110Degree #View #Angle #Computer #Camera #Video #Calling #Recording #Conferencing