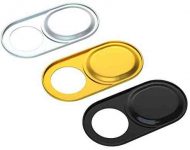 Webcam Cover, Web Mac Laptop Video Privacy Camera Cover Slide Cute, Metal [3 PCS] Ultra-Thin MacBook Air Camera Blocker for Laptop,Mac PC Computer Phone iPhone Video Front Camera Lens Privacy Cover.

Price:

$4.99




Why is everyone covering up their laptop cameras?
-Hackers can access these cameras through malware
-Were you aware that hackers could gain access to millions of web cameras, which can potentially put your privacy and security at risk.
-People use simple stickers and plastic clips to cover their cameras to protect themselves from hackers.
-A glut of cheap stickers and branded plastic slides designed to cover up the front-facing cameras on phones, laptops, and even televisions.
Now TAULIY offers you a better solution with its webcam cover:
– 0.027-inch Thin Webcam Cover

– New Strong Adhesive

– Made from durable ABS plastic

– Simple installation

– Unique Minimalist Design

– Cover your Webcam at your Convenience

– No Affected on the Performance of your Webcam

– Works with Laptops, Desktops, Smartphones

Please Note:

1. Be careful not to cover the signal light and sensor when you install the webcam cover.

2. This web camera cover slide is used for an in-built webcam (front camera) on most laptops, phones, and tablets, BUT NOT for the external webcam.
【ULTRA-THIN AND DURABLE DESIGN】-Our camera blocker for laptop has super thin design, perfect curve edges and extra mini size, which means this computer front camera cover can perfectly fit your devices. This camera lens cover is only 0.027 inches thick and you will not feel its existence when the laptop lid is closed. And Our webcam cover slide is made of metal, enough sleek and sturdy, it will not be broken easily.
【WIDELY COMPATIBILITY】- This camera blocker is compatible with MacBook Pro, MacBook Air, Mac, laptops, Microsoft Surface, iPad, Android tablet, PC, computer, all-in-one desktop, iPhone and other Android smartphones. And this web camera cover will not interfere with webcam usage or web signal or damage your device.
【EASY INSTALLATION 】- Installing this webcam blocker is quite simple. First and foremost, you should make sure your screen is clean and free of dust smudges. Next, you can simply remove the small adhesive backing from the webcam cover and line it up with your webcam. Then you should press it firmly in place.
【QUALITY GUARANTEE】: If you have any quality problem with our webcam cover slide, please contact us, we will respond you within 24 hours and give you a satisfactory solution.
laptop camera,#Webcam #Cover #Web #Mac #Laptop #Video #Privacy #Camera #Cover #Slide #Cute #Metal #PCS #UltraThin #MacBook #Air #Camera #Blocker #LaptopMac #Computer #Phone #iPhone #Video #Front #Camera #Lens #Privacy #Cover