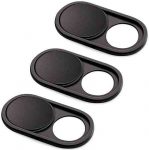 Webcam Cover Slider by CloudValley, 3 Pack 0.026in Ultra-Thin Metal Web Camera Cover for MacBook Pro, Laptop, Mac, PC, Surfcase Pro, iPhone, Protecting Your Digital Life

Price:

$6.99




Product Description
How to protect yours privacy?

Webcam Hacking – Why Webcam Covers are Important?
Someone could be watching you through your webcam, without you even realising.
How to protect yours privacy?
CloudValley metal webcam cover slider is annular groove design so that it does not fall off like a magnet slider.
It designed for people who like to have more privacy, security and peace of mind when using smartphones, tablets and computers!
Fashional Ultra-Thin

Are you one of those who uses a sticker, tape?
They ruin the look and feel of your device. They do not last very long.They always have to be removed and replaced. When using them you leave finger marks on your device. They leave residue on your device you have to clean.
We provide a sophisticated solution to all these problems.
Compatible Device

MacBook Pro, MacBook Air, MacBook. and other laptops & tablets. iMac, PC, Computer, All-in-one desktop. iPad mini 2 / 3 / 4, iPad, iPad Air, iPad Pro. iPhone 8 / 7 / 6 Plus / 5 / 5S / SE Front camera. Echo Show and Echo Spot.
Fashional Ultra-Thin Design: Measuring only 0.026in(0.66mm) thick, ergonomic webcam privacy cover, It does not prevent laptops from closing perfectly. privacy, security and peace of mind you deserve.
Fits on Most Devices: Compatible with Macbook Pro, Macbook, Mac, Laptops, Surfcase Pro, iPad, Android tablet, PC, Computer, All-in-one desktop, iPhone 7 / 7 Plus / 6 / 6 Plus and many more smartphone. Does not interfere with web use or indicator light. It does not damage your device in any way.
Solid and Easy to Use: High quality aluminum alloy, the slider is annular groove design so that it does not fall off like a magnet slider. Adheres with double sided 3M tape, stays on strong when properly attached. Simply align to your webcam, attach and press firmly for 15 seconds for a strong, but non-permanent seal.
100% Satisfaction Guaranty: If you aren't completely satisfied with your purchase, just contact us and we'll refund your order.
laptop camera,#Webcam #Cover #Slider #CloudValley #Pack #0026in #UltraThin #Metal #Web #Camera #Cover #MacBook #Pro #Laptop #Mac #Surfcase #Pro #iPhone #Protecting #Digital #Life