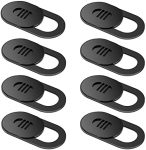 Webcam Cover Slide [8-Pack], Ultra-Thin Web Camera Cover, Laptop Camera Cover Slide for MacBook Pro, Smartphone, Laptop, PC, IPad, iPhone, Camera Blocker Protect Your Visual Privacy (Black)

Price:

$6.59




Product Description
Why you need the webcam cover?

You don't have to be a celebrity or politician for someone to hack your webcam and gaining unauthorised access to your digital camera is more common than you think. We need a lot of attention for our privacy protection. Our webcam covers can meet your needs. It can cover the webcam when it is not in use. Just slide it to open and close the camera.
Fits on Most Devices

Compatibility:
Laptops,Ipad pro,Tablet
Compatibility:
Smartphone,Such as iphone 7/7 plus, iphone 8/ 8 plus ect…
Compatibility:
PC,Computer,Surface pro, all-in-one desktop
Compatibility:
MacBook Pro, MacBook Air, iMac ect…
High quality materials, durable to use.

Camera Cover Slide is only 0.023 in thick which will not interfere with closing lid of your laptop. It is made of premium high-strength ABS plastic could provide long-term reliable protection for your privacy.
Specifications:
Model: Webcam Cover
Material: ABS Plastic
Quantity: 8pcs
Easy to Use:

1.Clean the surface of your device's webcam with the included cleaning cloth;
2.Tear off the back sticker, then align the lens and attach the protective cover to the lens;
3.Press it firmly in place and hold for about 10 seconds, which helps the 3M adhesive be more durable;
4.Simply place your finger on the slider and slide to cover or uncover your webcam.
【High Safety】Our laptop camera cover slide is high safety can protects your online privacy and prevents hackers from spying on your private life also protects your front-set camera from dirt and dust.
【Fit for Most Devices】Camera cover slide perfectly fits almost all devices. MacBook Pro, MacBook Air, Mac, laptops, surfaces Pro, iPad Pro, Android tablet, PC, computer, all-in-one desktop, iPhone 8/ 8 Plus/ iPhone 7/ 7 Plus/ 6/ 6 Plus and more smartphone.
【Easy to Install】Remove the back sticker and attach it to your device.Laptop camera cover slide can be opened or closed with just one simple finger movement, when the webcam is not in use just cover it to provide you with privacy security. And you can easily remove the laptop camera cover when needed. It doesn't leave any sticky traces.
【Package Included】One set come with 8 pieces Webcam Covers, meet your everyday need. It can be taken apart into two separate pieces to clean the slide, After you are done cleaning, install the pieces together.
laptop camera,#Webcam #Cover #Slide #8Pack #UltraThin #Web #Camera #Cover #Laptop #Camera #Cover #Slide #MacBook #Pro #Smartphone #Laptop #IPad #iPhone #Camera #Blocker #Protect #Visual #Privacy #Black