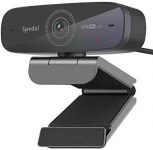 Webcam 60fps 1080P, 2021 Autofocus Computer Camera for OBS Gaming Conferencing, USB Streaming Camera with Dual Microphones for Video Calling and Recording, Desktop or Laptop

Price:

$49.99




Product Description
HD 1080p 60fps Computer Camera
Full 1080P and Crystal Clear Picture: Webcam with high quality resolution and the build quality is great.Stream and record vibrant, true-to-life HD 1080P video at 60 fps.
Friendly and Considerate Design
360° horizontal & 180° vertical rotation range creates a complete 720° coverage.The Tripod-ready design with the universe base, the HD Camera can be attached to your monitor securely, easily fitting the top of your desktop, laptop or notebook. Plus 1/4 tripod hole ready design, you can choose to use your tripod at any time.
USB Webcam
Plug & Play: This web camera is literally Plug and Play, no software required, easy to set up.
Built-in Dual Microphones
This hd webcam is built-in stereo microphone audio, capture your voice in rich Stereo Audio. Background noise is filtered out so that you can be clearly heard.
Live Streaming PC Camera
Note: Due to the design of the Xbox which audio and video are separate, you need to buy another external microphone connected to the Xbox controller.
Excellent Compatibility
Auto Focus Webcam 80°wide angle lens captures high definition image and video at 1080p/30fps. Perfect for streaming on social media and gaming such as OBS, Skype, Twitch, Youtube, Facebook, Xbox one((Not compatible with PS4).
HD 1080P 60fps Autofocus Webcam for Vloggers or Streaming Xbox
●Full HD 1080P at 60fps Live Streaming Camera
The picture quality is realistic and pure.Record vibrant, true-to-life videos up to HD 1080p 60fps .
It capture the smallest details for your video and post on OBS,Facebook or YouTube.
●Low light correction
You'll never worry about the image anymore with the automatic low light
correction, you will get the best picture even in a dim room.
●Compatibility
In the game live background change, supports streaming video on OBS, Facebook, Youtube,Xbox one, XSplit, Mixer, Twitter
and some other social gaming and media platform. Support video calling on Skype,Google Hangouts, Face Time for Mac etc.
Specifications:
Recommended Software: OBS Studio
Viewing Angle: 80-degree wide angle.
Video Resolution: Full HD 1080P/60fps (compatible with 1280×720, 640×480, etc.)
Support: MJPG, YUY2
Aperture: F/2.0.
Focus Type: Auto focus.
Focal Length: 70mm to infinity
Package Includes:
1 X Streaming Webcam
1 X Lens Cloth
1 X User Manual
Streaming webcam full HD 1080P 60fps-This New HD computer camera is able to capture the high resolution combined with the higher frame rate, 1080P at 60 frames per second. Perfect for vloggers and streaming. The 60fps webcam with 8(7+1 IR)pieces full-coated AR Coating Optical Lenses offers crystal clear picture and image quality also performs the smoother videos.
Auto focus and low-light correction- The USB Camera with real-time autofocus feature captures razor-sharp high-definition video and performs clear and vivid images and videos. Superior automatic low-light correction reduces graininess and brings out details in darker environments, adjusting according to the conditions to provide a consistently high definition.
New flexible and adjustable base& plug and play-New Upgraded Stream Webcam has a universal base with 360° horizontal and 180° vertical rotation range which creates a complete 720¡ãcoverage.HD webcam can be attached to your monitor security and can more easily fit the top of your desktop, laptop, or Mac. Plus 1/4 tripod hole ready design, you can choose to use your tripod at any time.Easy to set up, just Play and Plug.
Ultra excellent audio- Built-in dual analog microphones to filter out the background noise and capture voice clearly.Perfect for streaming camera for video calling and recording.
80° wide angle of view & multiple compatibility – The 80-degree field of view PC webcam is wide enough to capture teams and whiteboards with ease. The idea for online team business meetings, family group meetings. This streaming webcam is compatible with OBS, YouTube, YouTube, Facebook, Skype, FaceTime, Xsplit, Mixer.
laptop camera,#Webcam #60fps #1080P #Autofocus #Computer #Camera #OBS #Gaming #Conferencing #USB #Streaming #Camera #Dual #Microphones #Video #Calling #Recording #Desktop #Laptop