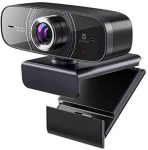 Webcam 1080P with Microphone HD Web Cam 30fps, Vitade 826M USB Computer Web Camera Cam for Streaming Gaming Conferencing Mac Windows 8 10 PC Laptop Desktop Plug & Play

Price:

$38.89




Product Description
Vitade 826M Webcam
The Vitade 826M focusing on what matters most to game streamers and YouTube vloggers – good image quality. You don't need to spend a ton of time configuring the stream – just plug in the Vitade webcam and get to work. The wideband mic delivers crystal clear audio, and making it a great choice for business conferencing and presentations.
HD 1080P Webcam
With full HD 1080P webcam, now call, stream, blog and record like a pro in crystal clear video. Designed for quality video streaming on Zoom, Youtube, Facebook, Skype and Hangouts, perfect for video chats, image, and video broadcast recording watch more at best product reviews.
Tech for all!!!
Live video streaming on social website
Live games streaming
Online lecture
Video chatting with families and friends
Video conference
Capture photos
Recording HD videos
Compatible with video capture card
Dual omni-directional mics with noise cancellation reduces distracting background noise. Whether at home or in public places, webcam records natural and clear sound.
This streaming webcam works with most of the systems and software. For example, Windows 7, 8, 10 and above, Mac OS 10.6 and above. Moreover, it can use with many social applicants: Zoom, Facebook, YouTube, Live Time. It can meet your needs in daily life and works.
Easy to use and access, compatible with most social media platform. No drivers needed
H.264
✓
Tripod
✓
Privacy Cover
✓
✓
Focus Type
Manual focus
Manual focus
Fixed focus
Autofocus
Autofocus
Autofocus
HD Resolution
Full HD 1080p
Full HD 1080p
Full HD 1080p
Full HD 1080p
Full HD 1080p
Full HD 1080p
Video Effects
Premium
Premium
Premium
Premium
Premium
Premium
HDR Dynamic Range
Ring Light Adjustable
✓
Auto Light Correction
✓
✓
✓
✓
✓
✓
Background Replacement Function
✓
✓
✓
✓
✓
Webcam Hd 1080P & Wide-Angle Lens 110°➤ Webcam with 110 ° wide-angle lens captures 1920 x 1080p high-resolution images and videos with 1080p / 30fps, offers good performance even in dimly lit rooms. Perfect for checking in on loved ones, webinars and video conferencing.
Stereo Microphone ➤ 826M usb camera built-in dual omni-directional mics with noise cancellation effectively reduces distracting background noise for natural and clear sound. In addition, the noise reduction function allows your voice to reach the other party clearly even in a noisy environment. Clearly pick up audio at 15 feet (about 5 meters), which is super convenient for online teaching, blogging, conferencing, Live streaming, video calling, social gaming.
Light Correction & Manual Focus➤ Automatic low-light correction provide true-to-life video even in dim or overexposed lighting conditions. Web camera with adjustable manual focus allows you to find the fit angle in your live streaming or video conferencing. Make you can enjoy videophone calls.
Plug & Play ➤ Quick and easy setup in 1 minute. No additional driver or software required, just connect the web camera to a computer USB port and start play. Unlike most webcam clips only rotating 90°, 826M webcam plate can rotates 360° freely. You can shoot in all directions indoors. Also the multi-angle tripod and universal clips can fits to laptops, desktops, and LCD monitors. (*Tripod must be purchased separately)
Versatile Compatibility➤1080P webcam uses USB 2.0/3.0 port, which is compatible with most live streaming and recording software and office entertainment tools on the market. Compatible with Mac OS/Windows 2000/XP/Vista/Win7/Win8/Win10/Linux etc. Works with social media and gaming.
camera for pc,#Webcam #1080P #Microphone #Web #Cam #30fps #Vitade #826M #USB #Computer #Web #Camera #Cam #Streaming #Gaming #Conferencing #Mac #Windows #Laptop #Desktop #Plug #Play