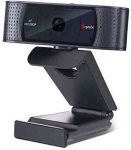 Webcam 1080P HD Streaming Camera for Gaming Stream/Conferencing/Video Recording/Autofocus Web Camera with Microphone for Windows 10 iOS Xbox one Linux

Price:

$52.98




Product Description
With Angetube 928 webcam, say NO to Spying. Puts you in control of what you show.
Live Streaming on Xbox One

Plug and play, you can complete the connection and setup web cam with Xbox One in a few steps. It's easy to enjoy the live stream game with a simple operation.
1080P Video calling and recording&Instantly autofocus webcam

You'll be seen in crystal-clear definition with 1080p full HD video on Skype and 720p video on FaceTime for Mac,and Google Hangouts,Facebook and most other video-calling clients.
Background Replacement
Background Replacement with Chromacam. Powered by personify(only works with Windows 7 and above, Intel i3 processor or higher) allows you to integrate your live image to any background, right onto your stream. It is compatible with most video calling programs, game devices, and video live broadcast platforms, bring you more fun in video.For better performance, you can register as a Chromacam member.
Driver Free,Easy to Use
Compatible with
Windows 7, 8, 10 or later;Mac OS 10.6 or later;Google Chrome OS:V 29.0.1547.70 or later;Android Smart TV V5.0 or later;Native Linux OS 2.6.24 or later;Ubuntu V10.04 or later;Xbox One V10.0.1734.4056 or later.
Works with Most Popular Video App
The camera is compatible with most popular video software to meet your different needs.Platform Compatibility
OBS,mixer,Youtube, Facebook,XSplit, Skype,ZOOM, Amazon Chime,Google Hangouts,LifeSize and FaceTime for Mac,laptop and PC.
USB Web Camera with 360-Degree Swivel: Thanks to the flexible and user-friendly design allows you to fix the Angetube autofocus web cam at any angle you want. It only takes 1 second to set up the vertical screen live broadcast or demonstrate your keyboard and technique in live game play.Even good choice for calligraphy teaching and product display on social networks.
Professional Stream Webcam for Smooth Live Streaming: Plug and play for OBS Studio and Xbox one stream video on Twitch,Youtube,Mixer,Facebook Live,Twitter and more! What's more,Angetube webcam support background replacement during live cast or video calling with Chromacam,powered by personify.
Facecam with Voiceprint Recognition Level Microphones:Thanks to the built-in Dual noise cancelling microphones and audio processing chip,The facecam produce clear smooth and crisp sound without static noise.Great for gamers/streamers separating them from background noise. Does the job well for streaming broadcast ,OBS,and video calling and recording.
1080P HD webcam and Wide Angle View: Wide angle lens make it cover more people in video conference. 1920*1080,1280*[email protected]/s provide smooth and clear video in chatting and conference. Beauty effect technology especially for details such as facial optimization, the picture quality is more delicate, the color is more beautiful. Automatic Light Correction Stream clear video, even in dim light.
camera for pc,#Webcam #1080P #Streaming #Camera #Gaming #StreamConferencingVideo #RecordingAutofocus #Web #Camera #Microphone #Windows #iOS #Xbox #Linux