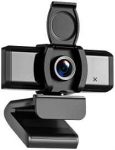 Web Camera, 1080P HD Webcam with Microphone & Privacy Cover, Computer Camera, 90° Degree Wide Angle, Plug and Play, for Conferencing and Video Calling

Price:

$21.99




Product Description
HD 1080p webcam has excellent video quality, high-sensitivity microphone and privacy protection cover, which allows you to perform well in video display and enjoy a safe digital network life. Very suitable for Skype chat, video call, web seminar, video conference, real-time streaming, various course presentations, etc.
FULL HD WEBCAM 1080P
F1 / 3 large aperture, can effectively correct the wide angle, AF manual focus can capture clear images in each scene, to ensure the best condition in video calls
Driver-free plug and play
Newly upgraded functions, plug-and-play without driver, USB automatic identification, high sensitivity, compatible with multiple systems
Built-in HD MIC
The webcam has a built-in noise-cancelling microphone that can block harmful background noise and capture clear speech. Ideal for video calls, meetings, online teaching and streaming media.
90° wide angle, the image is not distorted
Web camera with 90 degrees wide-angle, show more in 16:9 widescreen, easy to stream video, share your recorded videos or vblog. Perfect for conferencing, video calling, live streaming, recording, gaming etc.
Dust-proof privacy protection cover
You need to open the privacy cover when you use the camera, and you need to close the privacy cover when you are not using the camera to protect your privacy and prevent dust from entering
Wide range of use
It can be used in many occasions, such as company office, foreign trade business, video conference, home video, selfie, hotel reception, online courses, live broadcast, shouting, etc.
Plug and Play : The fixed focal length lens captures high def video at an wide-angle of up to 90 ° that is great for presentations. The convenient foldable design allows you to easily take it anywhere. Just plug it in and you are ready to go! The mounting clip can be flexibly placed on any desktop / monitor/ laptop / Chromebook / PC / smart TV / tripod.
USB Webcam with Privacy Protection Cover: The privacy cover for the PC Webcam, covers the lens when it is not in use, Protect your privacy from abuse by hackers. It also helps to protect the lens from dirt and debris to ensure your video remains clear for the life of the camera.
Built-in Microphone & Noise Cancelling: Great for webinars, video conferencing, live streaming, etc. The built-in Noise-canceling microphone reduces ambient noise to enhance the sound quality of your video. Great for Zoom / Facetime / Video Calling / OBS / Twitch / Facebook/ YouTube/ Xbox one/ Conferencing / Gaming / Streaming / Recording / Online School.
Widely Applicable and Tripod Compatible : The USB webcam compatibles with WinXP/Vista/Win7/Win8/Win10/Mac OS and other computer operating systems. Applicable for Livestream, online lessons, video calls, and video conferences. Software/websites supportable: Skype, Facetime, Zoom, YouTube, Facebook, Twitch and etc.you can also mount it on a tripod ( Tripod needs to be purchased separately).
camera for pc,#Web #Camera #1080P #Webcam #Microphone #Privacy #Cover #Computer #Camera #Degree #Wide #Angle #Plug #Play #Conferencing #Video #Calling