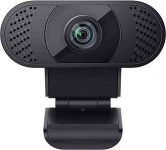 wansview Webcam PC with Microphone, 1080P USB 2.0 Web Camera for Laptop, Computer, Desktop, Plug and Play, for Live Streaming, Video Chat, Conference, Recording, Online Classes, Game

Price:

$26.99




Product Description
Wansview 1080P Webcam

Established in 2009, Wansview is a professional home camera company that has been devoted to product design, development technology innovation, professional manufacturing process, pursuing to offer the best quality cameras to every customer at an affordable reasonable offer.
This PC webcam is the newest design from Wansview company, which has 1080P High Resolution and built-in microphone with the high-level compatibility, offering an excellent video experience to you. It can be used by just 1 simple step, plug and play.
Innovation is endless. Wansview makes your life better.
1080P High Resolution

This PC web camera uses a 1080P HD lens, 30 frames per second, presenting a wonderful smooth video to you. Additionally, it has an ultra-wide 90° view angle, more things can be shown by this webcam easily.
Built-in Dual Microphone

With the dual built-in microphone, this webcam can pick up audio within 20 ft while reducing the noise from the background at the same time, giving you the clearest and most complete dialogue while making a video call or streaming video.
Easy Setup – Plug & Play

No need to install drives to make it work on your PC, you can simply plug it to your computer by the USB 2.0 cable, then it can start showing the great video at once. Please select this webcam as the default one on the video software if your computer has a built-in camera.
More Flexibility

There are 2 places that are available to adjust the angles manually, so you can fit the camera well with your device. Just open the bracket, put the camera lens facing to the front of the PC screen, then press the clip to fix it with the back of the screen.
Auto Low Light Correction

By adjusting the white balance automatically, this webcam smartly corrects the low light of the video while it's in a dim environment, giving you the best look all the time.
Extraordinary Compatibility

As a professional web camera, this Wansview laptop webcam is compatible with many operating systems, including Windows XP/2000/7/8/10, Mac OS, Android Smart TV, and Xbox One. The video stream software that are supported by this webcam is the majority like Zoom, Skype, Facetime, Facebook, YouTube, PotPlayer, Microsoft Teams, and many others. 1 webcam, settle down all your video needs.
Built-in Noise Canceling Microphone: Adopting the most advanced stereo microphone, the dual microphone on this PC webcam can double times absorb the audio around the camera.
Auto Low Light Correction and Plug and Play Setup: this desktop webcam can automatically adjust the white balance of the image and correct the low light, making the image bright enough to be seen. With the USB 2.0 cable, you can directly plug this webcam on your computer then it can be recognized automatically, no any driver needed.
Versatile Compatibility with Multiple Software and Systems: the compatibility of this webcam is super wide for major software like Skype, Zoom, Facetime, Facebook, YouTube, PotPlayer and more.
Adjustable Clip: The camera for computer has an adjustable clip, which is avialbale to be mounted on any type of computers, or even just put it on the desk or on a tripod.
laptop camera,#wansview #Webcam #Microphone #1080P #USB #Web #Camera #Laptop #Computer #Desktop #Plug #Play #Live #Streaming #Video #Chat #Conference #Recording #Online #Classes #Game