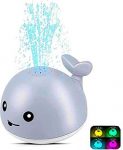 vnice Fun Baby Bath Toy Auto Sprinkler Water Whale Kid Toy with Seven Kinds of Flashing Light for Toddlers Induction Light Up Bathtub Toy and Fountain Shower Shark Toy for Age 1 2 3 4 5 + Years Old

Price: $17.99 - $11.99


Product Description
Adopting ABS material made of baby bottle, strong and anti-falling, safe, non-toxic
The surface is finely polished. The smooth surface will not damage your Infant 's skin
Trying to spice up bath time? Try these awesome bath toys.
Toddler bath time can be so hit or miss. It can be blissful and the stuff bedtime routine dreams are made of. Or it can be a total disaster of epic proportions. I can't handle ending the day on a sour note so I stock our tub with the bestest bath toys around.
Do you have bath toys on your gift wish list?
They make bathing so much fun.
This is a fan favorite from my 4 year old to my 13 month old! It runs on batteries to create a continuous fountain. It's a hit!
Bath fountain toy is perfect for bath time – your kids love their animals in the tub.
Happy Time with Parents
In the company of mother, help children grow up happily,improve the baby's brain intelligence, develop good athletic ability and early ability,
bring endless entertainment for baby bath
Automatically Sprinkler Toy🐳- Baby Bath toys can automatically absorb water and spray a soft water column like a lifelike whale and flashing colorful lights like twinkle stars when putting tub toys in the water, which are very attractive for your babies and will be very exciting and enjoying their bath time every time.
Funny and Cute Whale Toy 🐳-Cute cartoon whale bathtub floating and spinning on the water, spraying exciting fountains, bringing endless entertainment for baby bathThe size of the little whale toy is 4.4 feet 4 feet 3.6 feet, very small and cute, suitable for baby, toddler, infant, kids, boys, girls to play.
Safe & Durable🐳 -The kid toy made of the kid feeding bottle material , BPA free, non-toxic, environmentally friendly, drop resistant. Fine sanding smooth surface(free of burrs) will not cut the baby's skin.
Start Immediately After Entering The Water🐳-The Whale Baby Bath Toy powered by 3 * AAA batteries(Not included), just install the batteries and put the toy into water then the bathtub toys will automatically spray water and flash colorful lights. Please make sure that the cover screws are tightened after the battery is installed.
The Most Perfect Gift For Infant 🐳-The spray water toy is a magical machine that can make bathing more fun. It can be used in bathtubs, swimming pools, showers, outdoor and beach. This is a very good gift choice on birthday, Christmas or party
baby toys,#vnice #Fun #Baby #Bath #Toy #Auto #Sprinkler #Water #Whale #Kid #Toy #Kinds #Flashing #Light #Toddlers #Induction #Light #Bathtub #Toy #Fountain #Shower #Shark #Toy #Age #Years