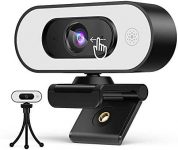 VIZOLINK 1080p Computer Webcam with Ring Light and Dual Microphone, Tripod and Privacy Cover, Plug and Play, 2021 Streaming Web Camera for Skype, Zoom, YouTube, Games, Laptop Desktop PC

Price: $29.99 - $19.99


Product Description
Webcam with ring light and microphone
VIZOLINK is a branding business that has been devoted to developing and manufacturing cameras for more than a decade. Vizolink was created with the mission of making high quality, easy-to-use, affordable consumer products accessible to everyone. We believe that high-quality technology doesn't need to cost a high fee. We are also a well-established camera manufacturer with a factory of over 10,000 people and several branches, which enjoy a good reputation in the local area.
VIZOLINK 1080P webcam with ring light and microphone

Product Detail
– 1* Laptop webcam
– 1* Tripod
– 1* Privacy Cover
– 1* Instruction manual
3-Level adjustable brightness light
1080P FHD web cam & 30fps
Dual 3D stereo noise-reducing mic
Auto light correction
Plug and Play
Mic pickup range 19.7 feet
1.8m USB 2.0 cable
Computer web camera is also suitable for video conference, remote job interviews

Auto light correction
Whether you stay in the dim or over the light area, the Mac web camera can auto-light correction to make the video look more natural and clear.Meanwhile, the fisheye webcam can auto white balance and exposure control, which make the image full of color.
Wide compatibility
Streaming webcam perfects for zoom, YouTube, Twitter, OBS, XSplit, skype, facebook, twitch, and so on, which meet your daily use.Support multiple PC operating systems, Like Windows 10 or later, Windows 8, Windows 7.Works in USB Video Device Class (UVC),macOS 10.10 or later. In addition, it also support Android TV BOX (Android 9.0 or above)
Privacy cover and angle adjustment
With the private cover, USB web cam protects you from hacker spying and secures your privacy.Web camera with ring light can rotate 360 degrees from left to right. Rotating about 30 degrees up and down. The clip on the base can rotate about 220 degrees to firmly fix it on the screen.
Plug and play
VIZOLINK USB web cam auto-recognition, equipped with USB 2.0 interface, plug, and play, no additional driver installation required, easy and convenient, fast transmission of video data.
90 Degree Wide View
1080P full HD webcam has a 90-degree view, which is ideal for a single-person face-to-face conference meeting or online work/study.
Multi position placement
For adjusting the optimal angle, ring light webcam can be placed on the desk, screen, or tripod, allowing you to place it in a satisfactory position.
【Dual 3D stereo noise-reducing mic】Equipped with dual 3D stereo noise-cancelling microphones can capture the sound range of 19.5ft. Compared with other inferior streaming cameras, the sound of them is unclear and muffled. VIZOLINK full hd web cams makes the voice sound natural, clear and actual through unique algorithms to process. And with low latency line transmission, the sound is basically not delayed. Selecting freely open and close the microphone, or you can use an additional mic
【3-Level adjustable brightness light】2021 upgrade professional webcam built-in 3 kinds of adjustable soft and non-blinding light, which is brighter than other cameras with ring light after numerous comparisons and tests. Even in low light, bring the details of your face, make your live streaming or video conference more professional and beautiful
【360 Degrees Angle Adjustment & Plug and Play】 Web camera can be adjusted to your satisfaction at any time. Plug and play, save time and convenience. The package also comes with a tripod and privacy cover. The privacy cover can prevent hackers from spying on your life through the webcam
【Widely Compatible】 Webcam can be used for live streaming, games, online education, video conferencing, video chat, portrait collection. Compatible with Zoom, YouTube, Skype and other mainstream community platforms. It also can be placed above the laptop screen, on a table or tripod
camera for pc,#VIZOLINK #1080p #Computer #Webcam #Ring #Light #Dual #Microphone #Tripod #Privacy #Cover #Plug #Play #Streaming #Web #Camera #Skype #Zoom #YouTube #Games #Laptop #Desktop