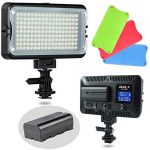 VILTROX VL-162T CRI95+ LED Video Light, Portable Camera Photo Light Panel Dimmable for DSLR Camera Camcorder with Battery, Charger, High Brightness, 3300K-5600K Bi-Color, White Filter and LCD Display

Price:

$36.99




Product Description
Easy Lighting Adjustment After pushing the button, rotate switch for brightness control in the range of 20-100% or different color temperatures (3300K-5600k) to create a softer glow or a brighter light. And included white/red/green/blue filter can be installed or removed when you need.Portable Size with High Brightness The 162 bright LEDs offer lamp longevity, low power consumption, accurate color temperature. Max Brightness illuminance: 1070LM/1250 lux/1M. Lightweight but durable construction, perfect for various shoots , portrait, wedding, family and children etc..
Multiple Combinations for Lamp Designed with the fixed groove besides the LED Light, multiple lights can be connected to fill light. Great for handling different filming situations.Convenient use & Adjust Angles Mount the light on the standard shoe adapter of video, digital camera, or camcorders, then tighten it securely with a thumb wheel. You can adjust the light's angle for your preference.
Powerful Battery (Included) or Power Adapter (Not Included) Light can be used with AC adapter or battery. Come with battery, easy to taken on indoor or outdoor photo shoots. Clear HD LCD panel is convenient to check parameters.
Specifications:

Power:
12W
LED Quantity:
160pcs
Color temperature:
3300K~5600K
Brightness range:
20%~100%
Max Brightness illuminance:
1070LM/1250 lux/1M
Continue light time:
3h(100% full, Li-battery NP-F550/F960 series)
CRI:
95(RA)+
Input power:
Li-battery NP-F550/F750/F960 series. 12V/2A, DC005 General interface(Not Included)
Package List
1 x LED Camera Light, 1 x Hot Shoe Stand, 1 x NP-F550 Li-battery, 1 x White Filter, 1 x Blue Filter, 1 x Red Filter, 1 x Green Filter, 1x User manual
Dimmable and Color Modes Feature: Brightness dimmer (20%-100%) and variable color temperature (3300K-5600K) to brighten up your videos or pictures. The 4 included filters are easy to install via magnet for creative different light colors effects.
Battery with Charger Included: AC adapter (Not Included) or battery with charger (Included in Package) for more convenient indoor or outdoor use. With standard hot shoe mount, it can be adjusted angles while mounted on any DSLR camera, tripod, bracket, or light stand, etc.
Built-in LCD display: LCD panel shows a clear battery power, brightness and color temperature readings, let you operate easily and work more effective.
Multiple Lamps Combined Design. With 2 extending slots on the both sides, this portable, lightweight lamp can be easily linked together to fill light for different environments. CE, EMC, FCC, RoHS certification approved.
High CRI 95+; Max. brightness illumination with 162 powerful LED bulbs can be provided is : 1070LM/1250Lux(1m). The light design of small size, easy for carrying.
portable camera,#VILTROX #VL162T #CRI95 #LED #Video #Light #Portable #Camera #Photo #Light #Panel #Dimmable #DSLR #Camera #Camcorder #Battery #Charger #High #Brightness #3300K5600K #BiColor #White #Filter #LCD #Display