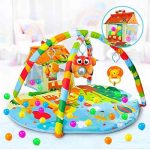 VATOS Baby Play Mat and Infant Activity Gym Ball Pit Kick and Play Perfect Sense Deluxe Gym, Zoo Plush Infant Play Mat with Toys Animals for toddlers Aged 0 to 3 6 9 12 Months Old Babies Einstein Pads

Price:

$39.99




Product Description
During the critical period of the baby's growth and development from 0-36 months, VATOS BABY PLAY MAT could provide different education functions to support the baby's growth of different ages & stages.
Exclusive Design: The unique little house looks warm and lovely! All the ocean balls, the rattle & teether, or any other baby toys can be stored inside the house.
Muscle Strength Training: Babies' little muscles will get a big workout as your baby kicks, rattles, reaches, pushes up, and gets groovin'.
Movement Exercise: When trying to sneeze the toy, to shake the rattle, to flip the crinkle paper, to scratch and bite the teether, baby's can get full movement exercise.
Color Perception: The developmental playmat contains over 15 different vivid colors, which could motivate the color perception of baby boys and girls.
Sound Recognition: The bonus toys and the crinkle paper on the roof could make different sounds to attract the baby's attention.
Learn about Animals: Including over 10 common animals on the play mat and the little house, baby can learn many animals while lying or playing on it.
0-6 M: Lying Down
5 small animals to attract the baby's attention.
Baby can exercise limbs by constantly kicking and scratching.
Helping to improve physical coordination.
6-9 M: Lying on Front
Detachable toys and ocean balls.
Enhance baby's neck, shoulder and back strength why playing.
Exercising the crawling ability of babies.
9-36 M: Sitting on Front
Hanging toys tempt the babies to reach out.
Promote the development of the baby's fine hand movements.
Training arm strength and hand coordination.
Safety material — BPA free.
We have selected the safest material for kids. Neither do parents need to worry about the skin contact of the babies on the activity gym mat, nor do they have to worry about baby nibbling toys.
High-quality safe cloth mat.
The cloth has been carefully treated to be softer and more comfortable. The padded mattress allows the child to lie comfortably even on the floor. Without any smell, babies can lay and play safely on the Einstein mat.
High elastic foam brackets.
The brackets are made of soft high elastic foam. Even if the baby pulls hard on it, it won't be deformed. Also, it's soft enough that would never hurt babies if they accidentally hit it.
Tummy Time Activity Play Gym

Do you know what skills babies need to develop at different periods?
Level 1: Sense — To feel the soft and smooth sense of touch, the bright and colorful items, the gentle and varied sounds.
Level 2: Discover — To find out what's making sounds and noise, what's the colorful pattern, how does this lovely toy taste.
Level 3: Explore — How to recognize the appearance and voice of different things and how to act like the one he knows.
VATOS early educational activity mat could meet the developmental needs of infants at different periods, encouraging children to sense, discover and explore earlier.
Popular with thousands of parents, Vatos was founded by James Lee, who initially focused on creating a safe, quality, entertaining and educational growth environment for his daughter. He believed that a good toy is not only a friend to children, but also a teacher that helps them build up their curiosity about the world.
Under his strict standards and requirements, Vatos has launched a number of toys exclusively for children between 3 months to 14 years old, and will continue to do so.
Package contents:
1 playmat with a small house
2 brackets
5 rattle & teething toys
30 ball pits
👶【4 ways to play as baby grows】0-3 month: Lying down to exercise limbs by constantly kicking and scratching. 4-6 month: Lying on the front to enhance neck, shoulder and back strength why playing. 6-9 month: Sitting on the front to promote the development of fine hand movements. Elder: Sensory exploration with bonus toys.
👶【Development of Multiple Sensory】The kick and play infant mat develops fine and gross motor skills, as well as cognitive abilities. The large and colorful play mat provides color perception to enlighten babies. Abundant bonus toys that could make sounds and noise to stimulate child's hearing and sensing.
👶【100% Safety Assurance】 Made with premium, BPA-free materials, this baby play mat is safe enough even for skin-to-skin contact with babies. All items included, like rattle & teething toys, ball pit and the braces are design in smooth or soft edges so that you never need to worry that your little ones will get hurt.
👶【Abundant Bonus Toys】Except the soft activity mat for infants, there are also much bonus: 5 rattle & teething toys, 30 pcs ocean balls, a little house with sensory crinkle paper on the roof could also attract babies to have all day fun alone. Enjoy your tummy time!
baby toys,#VATOS #Baby #Play #Mat #Infant #Activity #Gym #Ball #Pit #Kick #Play #Perfect #Sense #Deluxe #Gym #Zoo #Plush #Infant #Play #Mat #Toys #Animals #toddlers #Aged #Months #Babies #Einstein #Pads