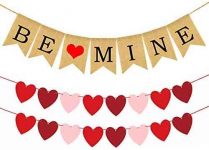 Valentines Day Banners – BE Mine Burlap Banner with 2 Felt Heart Garland Banners – Valentine's Day Decorations, Wedding, Engagement Party Supplies

Price:

$16.99




Product Description
Impress Your Valentine's Day with Our Be Mine Burlap Bunting and Felt Heart Shape Garland Banner!
— Super cute and sweet decor for the house, office, classroom, restaurant, bar, shopping mall, etc.
— Elegant touch for any type of home or party décor, perfect for seasonal and holiday decorating, or photo backdrop.
About Heart Shaped Garland

There are 2 heart garlands in the package.Each heart measures 4.3*4.2 inch. Made of sturdy felt and can be moved for placement. Once in place, shapes will not move on their own. Each garland is 6.56ft by length and contains 8 hearts in 3 colors mixed: pink, red and rose-carmine, also 1 ribbon & 1 needle.The hearts and ribbons are separately packed that requires you to string them up with included needles, very simple and joyful.
About Be Mine Burlap Banner

The banner is made of premium natural burlap, sturdy and reusable.Printed BE MINE letters and a red heart sign show your deep affection.Totally 9.8ft long, each letter flag is 13cm by wide and 18cm by high.
We also offer very cute Valentines Day Cards for Kids, Classroom Exchange Favor, different versions for your reference!
Material
Card Stock
Card Stock
Quantity
32pcs
35pcs
Stickers
Strawberry Scented
Strawberry Scented
Envelops
✓
✓
💝 You'll Get 3 Banners — 1 BE Mine burlap banner and 2 felt heart garland banners with 2 needles. Add a sweet and elegant touch to Valentine's day, engagement or wedding celebrations, or any type of home or party décor, holiday decorating.
💝 BE Mine Burlap Bunting — The banner is made of natural burlap and printed in "BE MINE" letters with a red heart sign. Totally 9.8ft, each flag measures 13*18cm. Good for all year use as a photo backdrop.
💝 Heart Shape Garland — Each heart measures 4.3*4.2 inch and each garland measures 2m (6.56ft) long with extra ribbon at each end to tie it up with. Perfect size to hang on the mantle, wall, window, shelves, etc.
💝 DIY Fun — The hearts and ribbon are separately packed that requires you to string them up with included plastic needles, very easy, safe and funny. Each heart is made of a sturdy felt and can be moved for placement.
💝 Satisfaction Guaranteed — We stand by our banners with a 100% money back guarantee. If you're not satisfied with it, we'll immediately refund your purchase price.
home decoration,#Valentines #Day #Banners #Burlap #Banner #Felt #Heart #Garland #Banners #Valentines #Day #Decorations #Wedding #Engagement #Party #Supplies