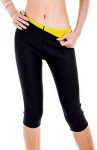 Valentina Womens Hot Thermo Body Shaper, Neoprene Slimming Capri Pants, Thighs Fat Burner, Best Workout Sauna Suit, High Waist Tummy Control Shapewear for Weight Loss, Black S – 4XL

Price:

$12.88




Are you looking for a new way to lose weight by burning extra calories in the body?
Look here and try our pants to achieve results faster and easier today!
Our pants is the latest design to get rid of your leg fats, to burn more calories, to have more sweat, to maximize the effectiveness of your workout.
It is perfect for losing weight, burning tummy fat, reducing cellulite, protecting waist, slimming your leg, firming your butt, shaping your figure.
With this you don' t have to put in much efforts.
Just try it and your body will start sweating away extra inches from the body fat!
BENEFITS:
Sweat Fat Away:
It increases thermal activity and stimulates sweating, accelerating the fat burning process to shape and reduce the waist, abdomen, leg, thighs and Lower body.
The Special neoprene material not only increases body temperature but also absorbs sweat and let you always dry on the outside.
Reshaping Your Body:
It delivers breathable comfort, compresses tummy and leg, which increases your glamour in your daily life.
It effectively tightens your tummy, hips, thighs, legs and is built to start shaping your body for good.
It is built to make your lower body look tighter and toned, while providing firm control throughout your midsection.
Lose Weight Easily & Healthily:
Unique fibers and material heat up your body resulting in more sweating and help your body to sweat out harmful fats, then leads to healthy weight loss.
The pants offers an easy way of losing out excess body weight and have an ideal slim physique.
Perfect Sports Equipment:
It is the best fitness equipment and perfect for all kinds of workout in the gym and outdoor.
You can wear it to enjoy exercising sports or just wear it at home while performing daily tasks.
Note:
1. For better results, wear it while you are exercising.
2. Hand wash in cold water with a soft detergent.
QUALITY & SOFT MATERIAL — 70% Neoprene, 15% Polyester, 15% Nylon.
FAST WEIGHT LOSS — This pants can preserve body heat and stimulate sweat during exercise. It is made up of neoprene, it is specially made for workout exercise, which can make you sweat 3 times more like never before and help to flatten your tummy, shape your leg, lose inches and melt the fat away!
PERFECT BODY SLIMMER — It is built to make your tummy, hips and thighs look tighter and toned, while providing firm control. The scientific design and compression will help you correct posture, flatten abdomen, slim thighs, and firm tummy leading to a more molded figure and visually trim weight.
LASTEST & FASHION DESIGN — Comfortable, lightweight stretchy neotex fabric and moves with your body while performing any activity. Trendy simple design looks great and matches with any combination of workout tops or shirts. It is suitable for all occasions: Home, Gym, Exercising, Yoga, Running, Walking, Indoor, Outdoor; Any occasion you want to lose weight and look slimmer.
weight loss gadgets,#Valentina #Womens #Hot #Thermo #Body #Shaper #Neoprene #Slimming #Capri #Pants #Thighs #Fat #Burner #Workout #Sauna #Suit #High #Waist #Tummy #Control #Shapewear #Weight #Loss #Black #4XL