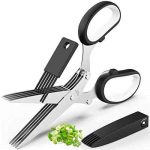 Updated 2021 Herb Scissors Set – Cool Kitchen Gadgets for Cutting Fresh Garden Herbs – Herb Cutter Shears with 5 Blades and Cover, Sharp and Anti-rust Stainless Steel, Dishwasher Safe (Black-White)

Price: $17.99 - $13.99


Product Description
The Most Recommended Tool from Professional Chefs:

1. Quickly and directly cut herbs on pizza, salad, casserole and soup. For example: onion, coriander, parsley, rosemary, leek , celery and other similar herbs. Cutting seaweed is also good.
2. Convenient to use in the kitchen, on the table and even cookout. No more cleaning knife and cutting boards.
3. Save time. It's equivalent to four times with a knife.
4. High safety. Do not worry about cutting your finger like using kitchen knife.
5. Each herb length is uniform and similar, so every food you make look so perfect.
There are Lots of Reasons for Choosing Our Professional Herb Scissor:

1. 2021 upgrade, high quality 3CR13 stainless steel, sharp and anti-rust.
2.The handle is made of two materials, PP+TPR. The upgraded TPR material has better non-slip grip ideal and a more comfortable feel.
3. Easy to clean: a special cleaning comb can clean up herbs easily and quickly from among the five blades.
4. Passed standards: FDA, LFGB, SGS.
5. Safety and health: passed all food safety level tests.
6. Comfortable ergonomic handle: According to the American palm's average size, the kitchen scissors allow the left-handed or the right-handed to use.
About this item:
1. Name: herb scissors.
2. Blade material: 3CR13 stainless steel.
3. Handle material: PP+TPR soft rubber.
4. Length: 7.6 In.
5. Weight: 5 ounces.
6. Color: black and white.
7. Packing: color box.
Tips :
1. It is recommended to clean after use, keep the blade clean with comb and wipe it dry before packing.
2.Cover it when not in use and keep out of reach of children or pets. (because it's very sharp)
Essential Kitchen Gadgets:
The herb scissors are practical and efficient kitchen ware, beautiful packing in color and high quality materials. It's very suitable for your own use or as a gift.
The package contains:
-1*Herb scissors
-1*protective sheath
-1*cleaning comb
Feature
Herb Cutting
Herb Cutting
Herb Cutting
Multi-Purpose
Garlic Press
Dishwasher Safe
✓
✓
✓
✓
✓
Detachable
X
X
X
✓
X
Material
Stainless Steel
Stainless Steel
Stainless Steel
Stainless Steel
Stainless Steel
Color
Black-White
Blue-White
Green-White
Green-Black
Stainless Steel
✅ 2021 new high quality herb cutting scissors with 5 stainless steel blades.
✅ The Herb Shear Set contains a safety cover and a comb for cleaning.
✅ The five-blade design increase your productivity by four times.
✅ The handle is made of PP + TPR soft rubber, comfortable and non-slip.
✅ Can use dishwasher to clean, but hand wash is recommended.
home gadgets,#Updated #Herb #Scissors #Set #Cool #Kitchen #Gadgets #Cutting #Fresh #Garden #Herbs #Herb #Cutter #Shears #Blades #Cover #Sharp #Antirust #Stainless #Steel #Dishwasher #Safe #BlackWhite