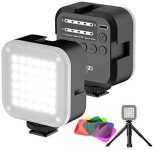 Ulanzi U-Bright LED Video Light on Camera with Tripod, Portable Photography Lighting Kit Photo Studio Fill Lamp with 6 Color Filters, CRI95+ 2700K-6500K Tricolor Dimmable 3000mAh Rechargeable Battery

Price:

$25.95




Product Description
ULANZI U-Bright Mini LED Video Light
New upgrade, lighter and softer
New Upgrade, More Smooth
Built-in 3000mAh large-capacity lithium battery, charging time is 2 hours, maximum brightness output up to 2.5 hours, minimum brightness output up to 15 hours.
This is powerful little light." It is super easy to work. It has 5 step of brightness and temperature adjustment. Most importantly, This light can also be used while charging which can be used anywhere.
Necessary light for take a photo or shoot a video. Portable/Soft light for youtube vlogging. Perfect for Canon Nikon SONY DSLR camera or Camcorder photography or videography.
A Multifuction And Multi-Compatible Supplement LED Light Compatible with all type cameras with hot shoe on the market. Various tripods can also be spliced with multiple lights.
5 Levels of Brightness and Color Temperature Adjustment

Package Content:
1* Led Pocket Light
1* Tripod Stand
6* Color Filter
1* Type-C Cable
1* Packing Box
1* Manual
Product Parameter

When It's Essential To Be In Your Best Camera Light
Battery Build-in: 3000mAhCharging Interface: Type-COutput Power: 7.5WLuminous Flux: 750LMLed Quantity: 36PCSColor Temperature: 2700-6500KDimmer: 10%-100%DC Power Input: 5v/2ACharging Time: 2 HoursWeight: 138g
【Brighter and Softer Light】The portable camera lighting Upgrade soft light board based on old models, make supplement light softer and brighter, not dazzling, perfect for vlogging videography or photography. And it comes with a pullable tripod. A affordable Photography Lighting Kit.
【2700K-6500K & CRI 95+】5 Indicator Lights can adjust the brightness from 10- 100% and color temperature from 2700K-6500K, also shows remaining battery. 36 LED beads, CRI up to 95+, to reduce post-grading work, realize any needs of scene.
【3000mAh Large Capacity Battery】The pocket camera light is built-in 3000mAh rechargeable lithium battery, charging time is about 2 hours, maximum brightness output up to 2.5 hours, minimum brightness output up to 15 hours. With Type-C charging port on camera video light, It also can be used while charging, no longer need to worry about the problem of insufficient battery.
【OPTIONAL SHOOTING EFFECT】Magnetic suction soft light cover, comes with 6 color filters, they can provide softer and colorful lighting; You can change the color of the light through the 6 kind filters to create cool photos and videos (Note: Color filters need to be used with the Soft Light Cover. Please insert the color filter to the Soft Light Cover firstly).
【Shooting lighting Vlog Video Light】 Compatible with Sony a6300/a6400/a6500/a6600, Canon, Nikon, DJI osmo pocket/osmo action/osmo mobile 2 3 ZHIYUN smooth 4 q Gopro hero 8 7 6 5 Max. Travel Record Life Record YouTube Video Selfie Food Photography Live Broadcast TikTok For Filmmaking. More over, Supports multi-light assembling.
portable camera,#Ulanzi #UBright #LED #Video #Light #Camera #Tripod #Portable #Photography #Lighting #Kit #Photo #Studio #Fill #Lamp #Color #Filters #CRI95 #2700K6500K #Tricolor #Dimmable #3000mAh #Rechargeable #Battery