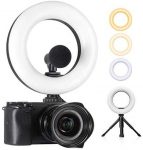 Ulanzi LED Video Light, 6.4″ On Camera Ring Light Bi-Color Dimmable 3200-5600K, Built-in 2000mAh Battery CRI 95+ Fill DSLR Light with Mini Tripod, Photography Lighting Photo Studio Shooting

Price:

$26.95




Product Description
VIJIM VL64, the Camera Light of Your Choice

This Bi-color ring light provides 3200K~5600K adjustable color temperature while preserving a over 95 CRI to reproduce every detail. Its bright enough and dimmable light fits perfectly for various situation from nature photography to portraiture.
Adjustable Color Temperature from 3200-5600K, Brightness from 10% – 100%

VIJIM Warm After Sales
24 Hours Customer Contact Service
Good Quality and Customer Experience
Committing to provide professional Photography light equipment and give you a nice using feeling!
Package included:
1* Ring Light
1* Tripods
1* Charging Cable
1* User Manual
VIJIM 64 LED Dimmable Ultra High Power Digital Camera/Camcorder Video Ring Light

Specifications:
Led Beads: 64
Power: 5W
Color Temperature: 3200K-5600K
Brightness: 700LUX/0.3M
LED Angle: 120°
Battery Capacity: 2000mAh
Weight: 181g
Size: 164*150*32.6mm
LED Angle: 120°
Video Conference Lighting
The ring light with 64pcs beads can not only help you to provide brightness when on zoom meeting, but also can be adjusted the luminosity with steplessly dimming to meet your live theme when you are on air.
Still Life Photography
Camera Ring light is to provide you with photography, portrait fill light, restore more realistic photography, the CRI reaches 95+, perfect for multiple uses like Still life shooting.
Baby Shooting
This video light is soft and eye-friendly, suitable for baby. The ring light with cold and warm light adjustment can help you record baby's wonderful moments and leave a good memory for your baby in the future.
【SOFT LIGHT, PROTECT THE EYES】Advanced acrylic light guide plate makes the light softer and nature. And it will protect your eyes. Ideal for still-life, wedding, portrait and children's photography
【BUILT-IN LITHIUM BATTERY】2000mAh capacity battery that is rechargeable, can be used continuously for 80 minutes at maximum power, and with USB Charger on Camera Light, more portable for you to carry wherever you go and work at any time
【3200K-6500K ADJUSTABLE, CRI 95+】Cold and warm color Temperature and 0%-100% Brightness can be steplessly adjusted to provide the most satisfactory fill light source. Meanwhile, the index of the true color of the restored object reaches 95+
【WIDE APPLICATION】With 1/4 screw hole .Mount the light on the standard shoe adapter of video, digital camera, or camcorders easily. With 1*cold shoe mount, you can mount the microphone or phone bracket.
【PORTABLE and LIGHTWEIGHT】The camera light size is 164mm×150mm×32mm. It is ultra-thin and the weight is only 181g. It is portable and lightweight to put in a bag and carry it anywhere we like
portable camera,#Ulanzi #LED #Video #Light #Camera #Ring #Light #BiColor #Dimmable #32005600K #Builtin #2000mAh #Battery #CRI #Fill #DSLR #Light #Mini #Tripod #Photography #Lighting #Photo #Studio #Shooting