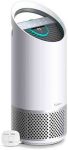 TruSens Air Purifier for Home | Filters Allergies, Pet Dander, Smoke, Odors, Germs, Bacteria, Dust, Mold, Pollen | HEPA Filter with UV-C Light Sanitizing Technology | Dual Airflow (Medium)

Price:

$249.00




Product Description
Air Purification Reimagined. Can you see your air? Let TruSens show you. A beautiful display informs you of the air you breathe. Monitors your air in your room, not just near the purifier. TruSens delivers cleaner air everywhere, with 360 degree DuPont filtration.
PureDirect Technology
PureDirect proprietary technology splits cleaner air into two streams, delivering purified air comfortably and efficiently throughout the room.
1, 2 Turbo!
From quiet speed to Turbo cleaning mode, the Z-1000 has been carefully optimized to deliver cleaner air. Packed with features, such as a powerful axial-centrifugal fan, PureDirect technology, UV-C light mode and separate Carbon and HEPA filter replacement indicators, this little superhero does the job.
Simple Touch Controls
No clunky knobs or buttons to push. Just a simple touch will do.
Model
Z-3000
Z-2000
Z-1000
Air Quality Monitor
✓
✓
Room Coverage
750 sq. ft.
375 sq. ft.
250 sq. ft.
UltraViolet Light
✓
✓
✓
Timer Settings
2/4/8/12 hours
2/4/8/12 hours
Fan Speeds
5
4
3
Purification Levels
Washable Prefilter, Carbon Filter, True HEPA Filter, UV
Washable Prefilter, Carbon Filter, HEPA Type Filter, UV
Carbon Filter, HEPA Type Filter, UV
Auto Mode
✓
✓
Night Mode
✓
✓
DuPont & the Oval logo are trademarks or registered trademarks of E.I. du Pont de Nemours and Company used under license.
CAPTURES AND DESTROYS POLLUTANTS: 360-degree DuPont filtration captures pollutants such as allergens, VOC gases and microscopic particles with our 4 levels of purification. Ultraviolet light destroys germs & viruses that can build up on the filter, reducing the re-circulation of germs.
SMARTER SENSING: Most traditional purifiers don't know the air quality in the room. TruSens does, and reacts. Our remote SensorPod will actively monitor the air quality of the room and take action. Placed across the room, SensorPod communicates back to the TruSens purifier so it can automatically adjust its fan speed. This way, you can be certain the entire room is benefiting from cleaner air.
DUAL AIRFLOW: PureDirect proprietary technology splits clean air into two air streams, delivering purified air more comfortably and efficiently throughout the room. The result of rigorous testing has proven that bi-directional airflow delivers purified air more effectively throughout a room, and in some cases, has been proven to be up to 24% more efficient.
DETAILED LED DISPLAY: Air conditions in your home can change rapidly. Information is power and TruSens purifiers give you the power to manage your home's air quality. The color-coded LED display will provide the peace of mind from knowing that TruSens is taking action on your behalf. Our air purifiers were designed with a simple touch controls for all the functions that matter most, including fan speeds, auto-timer, UV mode and filter replacement indicators.
TRUSENS: Simple is smart. Simple is clear. Simple makes sense. Designing products that work better for you and fit into your lifestyle is of the utmost importance to us. It's what keeps us moving forward. We are currently unable to ship to HI. We apologize for the inconvenience.
home gadgets,#TruSens #Air #Purifier #Home #Filters #Allergies #Pet #Dander #Smoke #Odors #Germs #Bacteria #Dust #Mold #Pollen #HEPA #Filter #UVC #Light #Sanitizing #Technology #Dual #Airflow #Medium