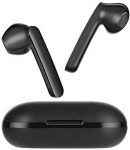 True Wireless Earbuds, Hadisala Bluetooth 5.0 Headphones with 30H Playtime Touch Control, IPX7 Waterproof Bluetooth TWS Stereo Earphones with Deep Bass Built-in HD Mic, in-Ear Headset for Sports Work

Price:

$29.89




Product Description
FAQ:
1. How to pair the earbuds on first use?
FIRST: take out the earphones from the charging case and remove the insulating film on the two earphones.
THEN: put the two earphones back into the charging compartment, close the lid and wait for 10 seconds.
FINALLY: take out the earbuds from the charging case again, turn on the Bluetooth function of the connected device, and click "T15" in the Bluetooth search results to pair.
2. Can't connect the earbuds with the device? Please follow the steps below to try again:
Please check if the protective film on both earphones has been removed.Put the left and right earphones into the charging box.Press the button on the charging box three times continuously until the red and white indicator lights on the charging box flash alternately.Cover the charging case, wait 10 seconds, and then reconnect it to the phone.
If the problem persists, please contact me again.
3. What should I do if there is a connection error or no sound in one side?
This may happen due to the earbuds connected with too many devices. You may put the two earbuds in the charging case, press the button on the charging case three times in a row until the red and white indicator lights on the charging case flash alternately, then close the lid, wait 10 seconds, and try to reconnect again.
Customer First & Do the Best
Hadisala focus on outdoor sports products and 3c electronics, with forward-looking vision and exquisite products to give back to the society, customer first and enhance everyone aesthetic taste and quality of life.
Why choose Hadisala wireless earbuds?

Hadisala Bluetooth 5.0 Headphones offers lossless HD sound quality and powerful bass performance with 10mm large size speaker driver. TWS 3D surround stereo, feel like you are listening the concert on the scene. The built-in noise cancellation chip can get the best music experience even in noisy environment.
Bluetooth 5.0Hi-Fi SoundNoise ReductionErgonomic DesignSuper Easy ConnectClear Call
Superior Sound Quality
Hadisala wireless earbuds adopt the most advanced Bluetooth 5.0 technology, providing fast and stable transmission with no signal loss or music dropouts. You will experience crystal clear seamless sounds without distortion.
Comfortably & Share
Our bluetooth headphones are ergonomic design, it can all-day comfort to your ears. And there is no master-slave restriction, you can easily use in single mode and binaural modes.
Smart Quickly Pair
Pick up our earbuds from charging case and turn on the Bluetooth of your phone, they will pair each other automatically. In addition to, our earbuds suit Android, Windows, iOS and ipad ect system. You can enjoy clear music in any equipment.
【Simple & Stable Pairing】Hadisala wireless earbuds built-in advanced Bluetooth 5.0 chips to provide efficient and stable connection between your device and the wireless headphones. Never worry about cutting off during listening and controlling. When opening the charging case your earbuds will automatically power on, simply select "T15" on your phone to pair.
【Type C Fast Charging Providing Long Endurance】Hadisala bluetooth earbuds a single charge gives you a full 5 hours of listening, while the lightweight and portable charging case extends that to 30 hours. The charging case uses the type c port to speed up the charging speed. A USB to C charging cable is included, provide a more stable and safer way to charge, increases Bluetooth earbuds' battery life dramatically.
【Ergonomic Design】Hadisala waterproof earbuds use the best ergonomic design. The lightweight, safe and comfortable fits your ears perfectly. We use the lightest materials so you won't feel uncomfortable even if you wear them on your ears for a long time. It will not rub, slip, or fall during exercise. IPX7 waterproof means no more worrying about sweat or rain.
【Smartly Touch Control】Hadisala bluetooth headphones built-in quick response touch control chip easily controls your music and phone, extricate yourselves from the trouble of physical button and prevents the buttons hurting your ears.
wireless headphone,#True #Wireless #Earbuds #Hadisala #Bluetooth #Headphones #30H #Playtime #Touch #Control #IPX7 #Waterproof #Bluetooth #TWS #Stereo #Earphones #Deep #Bass #Builtin #Mic #inEar #Headset #Sports #Work