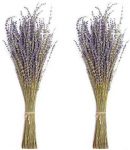 Timoo Dried Lavender Bundles 100% Natural Dried Lavender Flowers for Home Decoration, Photo Props, Home Fragrance, 2 Bundles Pack

Price:

$13.99




Product Description
100% Natural
These dried lavenders are hand-planted and picked by farmers and then naturally dried. Without any additives and special treatment, they still retain the beauty and aroma of the lavender.
Notes
Because it is dried lavender, there will be a small part of the flower buds falling off during transportation.
Tips
A small part of the fallen flower bud can make a sachet.
Aromatherapy bath
Moisturizes skin, shrinks pores, leaves skin smoother and whiter, and gives your body a scent throughout the day.
Gift
Put it in a gift box with other gifts and give it to your loved one.
Flower arrangement
Inserted in a vase, placed on a desk, on a coffee table, on a bedside table, as a beautiful home decoration, while also refreshing the air and calming the nerves, improving sleep quality.
Great decor
Suitable for parties, wedding scene decoration, and greeting card decoration.
✿ 100% NATURAL: Pure natural planting of lavender, hand-picked by farmers, naturally dried, retaining the original beauty of the flowers.
✿ ORIGINAL AROMA: No additives, retaining the original floral fragrance of lavender, smells very comfortable, can calm the mood.
✿ LAVENDER VALUE: Sedative and hypnotic effects, balance oil secretion, can shrink the whole body skin, keep your skin fragrant, supply nutrition and relieve stress.
✿ BEAUTIFUL DECOR: Great for home decoration, shop decoration, gift box decoration, as well as photo props. You can also make sachets with these lavender flowers.
✿ 2 BUNDLES PACK: There are 2 bundles, each bundle has 90-100 stems, a total of 180-200 stems, length 14-17 inches.
home decoration,#Timoo #Dried #Lavender #Bundles #Natural #DriedLavenderFlowers #Home #Decoration #Photo #Props #Home #Fragrance #Bundles #Pack