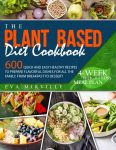 The Plant Based Diet Cookbook: 600 Quick and Easy Healthy Recipes to Prepare Flavorful Dishes for all the Family, from Breakfast to Dessert. 4-Week Weight Loss Meal Plan

Price:

$6.99




What if you could enjoy healthy and tasty meals every day, while losing weight and feeling good at the same time?
By switching to a Plant Based diet you could achieve just that!
The Plant Based Diet Cookbook has been designed to provide all the necessary info to start and maintain a healthy lifestyle that includes regular consumption of Plant Based meals.
This book will provide you with 600 simple and tasty Plant Based recipes. You will likely have all the required ingredients in your pantry. Most of your favorite recipes that you are already cooking can be turned into vegan/Plant Based versions by merely removing meat, cheese, milk, etc.
In This Book, you will learn:
What is a Plant Based Diet, what are its benefits and why you should start it
How to find and use the best animal food alternatives and keep your meals tasty
How to select and use Superfoods in your meals
How to stock your pantry to embrace a Plant Based lifestyle
A 4-Week weight-loss meal plan to keep enjoying your meals while shedding off pounds
600 healthy and tasty plant-based recipes, including:

Breakfast and Brunch
Smoothies and Fresh Juices
Grains and Legumes
Pasta and Noodles
Soups and Stews
Salads and Side Dishes
Snacks and Sides
Wraps and Sandwiches
Sauces, Dressings and Dips
Appetizers and Snacks
Fruits and Desserts
…and many more Vegetable recipes!
Click "Buy Now" to enjoy a Plant-Based lifestyle with all the health benefits it has to offer.


weight loss diet,#Plant #Based #Diet #Cookbook #Quick #Easy #Healthy #Recipes #Prepare #Flavorful #Dishes #Family #Breakfast #Dessert #4Week #Weight #Loss #Meal #Plan