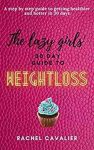 The Lazy Girls' 30 Day Guide To Weight Loss

Price:

$4.99




"This book is not for women who 'forget to eat lunch'. Or for women who 'love cardio'. This is for women who struggle to lose weight, can't stick to a diet, and don't understand why it isn't working for them. It's for the women who are overweight, sick of their bodies and worrying about heading to an early grave, or worse, not being able to wear a one-piece swimsuit that will successfully hold-it-all-in this summer." – The Lazy Girls 30 Day Guide to Weight Loss.
—–
'How do I lose weight with little to no effort, in less than 5 minutes per day?,' I hear you ask. Well, congratulations, you've found the answer!
Introducing, the best-selling book 'The Lazy Girls 30 Day Guide to Weight Loss'.
This book is designed for the lazy woman who knows she needs to lose weight but struggles to find the motivation. An easy-to-read, tongue-in-cheek look at weight loss; using simple strategies to reduce your calorie intake, increase your weekly exercise and improve your health overall.
Broken up into 30 chapters, this book is for busy women who don't have time to go to the gym, meal prep or read thick novels about hormone imbalance and glucose levels.
Written using a combination of Cognitive Behavioural Therapy techniques and Neurolinguistic Programming, Rachel Cavalier is a human behavioral change expert with a passion for weight loss. A serial yo-yo dieter and queen of the fad-diet, Rachel has tried them all. Using the philosophy of 'change the way you think, and you'll change the way you behave' The Lazy Girls 30 Day Guide to Weightloss is a book that prompts self-reflection and small changes to improve your lifestyle. Frank, honest, and incredibly sarcastic, The Lazy Girls 30 Day Guide to Weightloss is an easy-to-read program that has provided women around the globe with a simple way to address their unhealthy eating habits and lose weight.


weight loss diet,#Lazy #Girls #Day #Guide #Weight #Loss