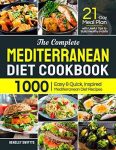 The Complete Mediterranean Diet Cookbook: 1000 Easy & Quick, Inspired Mediterranean Diet Recipes | 21-Day Meal Plan with Useful Tips to Build Healthy Habits

Price:

$3.99




Do you want to lose weight and energize your body, feel great and look awesome?

Does the Mediterranean diet excite you with its amazing flavors but still want to maintain your body shape?
Then you've come to the right place because this Mediterranean Diet Cookbook is filled with over 1000 mouth-watering, affordable recipes you can cook in the kitchen.
Mediterranean diets are diets such as fruits, vegetables, olive oil, legumes, which have their root in traditional foods eaten by people who inhabit countries like Spain, Italy, and Greek as far back as 1960.
Over time, health practitioners and nutritionists have tagged the diet the best in the whole universe owing to the volume of benefits it provides for the human body ranging from helping to put your weight in check, aiding longevity of life, restraining the body from contracting non-communicable diseases such as cancer, type2 diabetes, stroke, heart attack, to mention but a few.
The Mediterranean diet is also about enjoying delicious foods — as you'll discover when you try these recipes such as:
Italian Ricotta Cheese and Tomato Omelet
Cheddar Broccoli and Bell Pepper Frittata
Salmon Steaks with Tomatoes and Olives
Cod Fillet with Swiss Chard
Grilled Carrot, Zucchini and Bell Pepper
Green Bean and Halloumi Cheese Salad
Get a copy of The Complete Mediterranean Diet Cookbook today and see how it can help you lose weight, save time and feel great!
SCROLL UP AND CLICK THE BUY NOW BUTTON


weight loss diet,#Complete #Mediterranean #Diet #Cookbook #Easy #Quick #Inspired #Mediterranean #Diet #Recipes #21Day #Meal #Plan #Tips #Build #Healthy #Habits