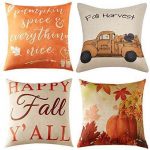 Thanksgiving Fall Pillow Covers 18×18 Inch for Fall Decor Set of 4 Autumn Harvest Pumpkin Theme Farmhouse Decorative Throw Pillow Covers for Sofa Couch Home Decoration

Price: $17.99 - $16.96


Product Description
Anickal Fall Pillow Covers,Time to Fresh up Your Home:
Anickal is an advanced brand in home textile decoration which style concept is Simple Fashion and Nature. We are always striving to bring you a colorful, stylish and natural home with our design.
Anickal Set of 4 Fall Pillow Covers

These throw pillow covers are designed for fall theme home decor, it made of cotton linen material with a brief design and look. Perfect for snuggling up on the sofa, couch or bed, or just goes great with any theme home decor.
Suitable for couch, sofa, bed, car, seat, window seat, loveseat, living room, bed room, floor, bench, office, cafe ect.
100% durable cotton linen material, Skin-friendly to you and your family.
Hidden zipper closure, better looking and easier to fill your pillow insert.
FEATURES:
Pillow Cover Size: 18×18 inches,45×45 cm 18 x 18 / 20 x 20 pillow inserts will fits the pillow covers perfectly
KINDLY REMIND:
Pillow insert or filler are not included Machine wash in cold water Due to hand made measuring and sewing, there might be a 0.4 – 0.7 inch size difference, hope you kindly understand
HOW TO CREATE PLUMP PILLOW?
Step1: Open up the package and unzip the cover. Then when you stuff your pillow into the cover, you need to fold the insertStep2: After part of your folded pillow is stuffed in the cover, you should put the left part of the pillow slowly to reduce the risk of zipper splitStep3: Then you can tide up the corner of the pillow, finally, you zip up the cover
Size
18×18 Inches
18×18 Inches
18×18 Inches
18×18 Inches
18×18 Inches
12×20 Inches
Color
Black and White
Orange
Bright Orange
Yellow
Rusty
Bright Orange
Material
Cotton Linen
Cotton Linen
Polyester
Polyester
Polyester
Polyester
Package Include
Set of 2
Set of 2
Set of 2
Set of 2
Set of 2
Set of 2
Cotton linen material
Pillow Covers Size: 18 x 18 inch
Machine wash in cold water
Hidden zipper closure, insert are not included
home decoration,#Thanksgiving #Fall #Pillow #Covers #18×18 #Inch #Fall #Decor #Set #Autumn #Harvest #Pumpkin #Theme #Farmhouse #Decorative #Throw #Pillow #Covers #Sofa #Couch #Home #Decoration