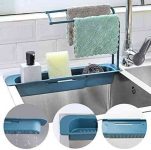 Telescopic Sink Storage Rack, Searik Adjustable Drainer Sink Tray Sponge Soap Holder Sink Caddy Organizer Holder Dish Cloth Hanger Storage Drain Basket for Home Kitchen (Blue)

Price:

$7.99




Do you often feel boring to the messy and wet countertop in the kitchen? Now let's our telescopic sink rack help you out. The sink rack with expandable length can allow you adjust the rack size according to your sink size. Besides, the sink storage rack with ventilated hole design can help you store and collect effectively like dish washing liquid, hand sanitize, brush, dishcloth and so on. The drainer sink tray is also with 2 dish cloth hanger and you can hang the cloths on it easily to keep them dry and prevent the bacteria growing. The kitchen sink caddy organizer can help you create a clean and fresh environment.
Features:
* Extensible design supports to freely adjust the length to meet different sink sizes for better storing.
* Towel bar can keep the fabric dry, ventilated, clean and hygienic. 
* Telescopic Sink Holder with hole design can keep the kitchen gadgets dry.
* Easy to store cleaning utensils, such as dish washing liquid, hand sanitize, ball brush, etc. 
* Humanized design, easy to remove and wash. 
Specifications:
* Material: High quality pp material 
* Color:Blue
* Product size: 14.2 x 3.3 x 11 inch 
* The length can be extended to a maximum of 19.7 inches. 
Package Included: 
*1 x Telescopic Sink Rack Holder 
PREMIUM QUALITY: The telescopic sink storage rack is made with high quality PP material that is more durable and stable, which won't deform and shake when you put sponges,brush, dish rags or other kitchen tools into this sink organizer. The kitchen sink rack can help effectively to keep your countertop clean and neat.
EXTENSIBLE DESIGN: The sink drain rack is designed with extensible style for meeting different sink sizes that allows you to adjust the length of the sink storage rack easily according to the sink size. It makes your sink looks fresh and comfortable.(Streched from 14.2" to 19.7")
MULTIFUNCTIONAL AND CONVENIENT TO STORE: The telescopic sponge organizer holder with 2 towel bars is very easy to store cleaning utensils, such as dish washing liquid, hand sanitize, brush, dishcloth, etc. Drain Basket Rack is comfortable to handle at an appropriate height, and convenient for daily cleaning.
EASY TO INSTALL: This sink storage rack holder is very easy to install and remove. Don't need to worry the kitchen sink rack will be punched, drilled or damaged to your sink when installing. It's also very convenient to adjust the suitable length and hang on the sink.
PERFECT TOOL FOR THE KITCHEN: The bottom of the adjustable sink storage rack is with ventilated hole design and the drain holes are evenly distributed. The sink rack can not only help keep inside dry and won't collect water when storing, but also can keep your utensils away from dirty water and prevent bacterial from growing. It's really perfect to create a healthy environment and convenient for daily cleaning.
home gadgets,#Telescopic #Sink #Storage #Rack #Searik #Adjustable #Drainer #Sink #Tray #Sponge #Soap #Holder #Sink #Caddy #Organizer #Holder #Dish #Cloth #Hanger #Storage #Drain #Basket #Home #Kitchen #Blue