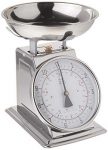 Taylor Precision Products Taylor Stainless Steel Analog Kitchen Scale, 11 Lb. Capacity, Silver

Price: $29.69 - $23.02


From the manufacturer
Taylor Stainless Steel Analog Kitchen Scale, 11 Lb. Capacity

Model Number: 371021
Retro, fun, hip, trendy! Never thought all those adjectives could describe a kitchen scale? Well, this iconic food scale made by Taylor Precision Products covers all the bases in 'cool factor' and also precisely and accurately weighs up to 11lbs in a full stainless steel bowl (included). The extra-large dial is easy to read from a distance. This scale is great for the big and little projects from portioning foods from the club store purchase or weighing garden yields.
An eye-catching countertop scale that will be the talk of the kitchen with the shiny brushed stainless steel housing. It perfectly enhances any kitchen's décor.
Max capacity: 11lb / 5kg, in 1 oz / 50g increments
Stainless steel housing and 5 cup capacity weighing bowl
5 inch dial with large numerals
Full stainless steel construction
Easy to read measurements are made possible by the large 5 inch dial.
The beautiful stainless steel design enhances kitchen décor – a countertop masterpiece.
Removable bowl for easy washing and storage.
Easily weigh garden yields.
Capacity
11 lbs / 5 kg
22 lb / 10 kg
11 lb / 5 kg
Scale Type
Mechanical
Mechanical
Digital
Additional Features
Stainless Steel
Scratch Resistant Lense
Raised Glass Platform
Quality and precision: Taylor has been making precision products for kitchen measurement for over 150 years, Using on the highest quality components for accurate weights. Measure in pounds, ounces, kilogram, or grams up to 11 lbs (5 kilogram) with 1-ounce and 50-gram increments.
Easy to read dial: The red and black graphics are easy to read on the large 5 inch dial.
Classic design: polished stainless steel finish looks sophisticated, while the traditional design blends into any kitchen décor.
Recalibratable: this scale can be recalibrated by using the adjustment knob at the base of the unit.
Easy to clean: remove and clean the stainless steel weighing bowl with Warm, soapy water.
One (1) year Limited : this kitchen scale is backed with a 1-year so you can make your purchase with Confidence.
weight loss gadgets,#Taylor #Precision #Products #Taylor #Stainless #Steel #Analog #Kitchen #Scale #Capacity #Silver