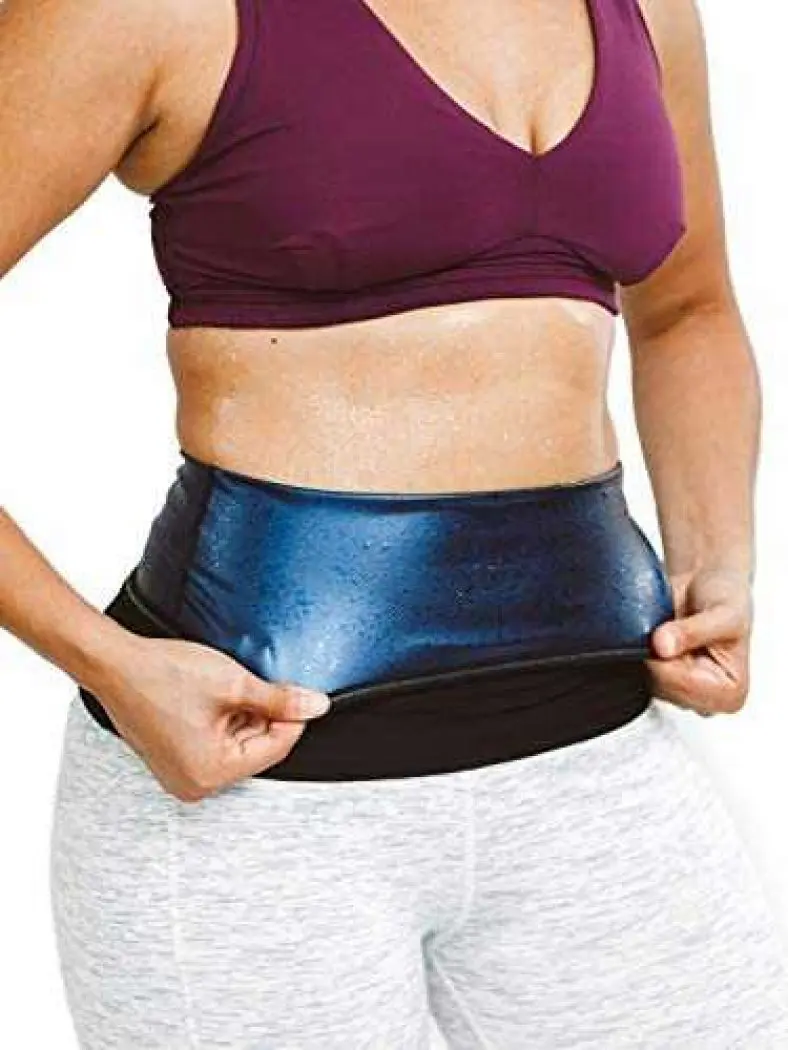 Sweat Shaper Waist Trimmer for Women, Waist Trainer Sauna Belt, Neoprene-free Waist Cincher, Sauna Slimming Belt

Price:

$19.99




Product Description
The Sweat Shaper Waist Trimmer uses performance compression that instantly tucks your tummy and shapes your waist for a smooth, toned silhouette. The elastic fibers hug your back and sides for added lumbar support.
Only Sweat Shaper is lined with our heat trapping polymer fabric that seals in your natural body heat. Your core temperature rises, so you'll feel a hot sauna-like experience that will quickly enhance your sweating.
Featuring a non-slip strip built into the fabrication that keeps the Sweat Shaper in place. It molds and moves with your core and waist for a secure flexible fit during workouts at the gym, yoga, cardio, cycling, or simply running everyday errands.
Material construction: 92% Polyester & 8% Spandex on the outside, while the inside is 100% Polyurethane. Completely neoprene-free because of the foul odor, added bulk, and its known association with allergic skin reactions and irritation.
Women's Sweat Enhancing Waist Trimmer

Improved Design
Are you on your journey to losing weight and improving your physique? What if you could supercharge your workouts and any type of physical activity and get quicker results by shedding pounds fast? Now you can with Sweat Shaper! The all-new advanced technology women's waist trimmer that uses your natural body heat to promote sweating. Combined with a workout routine and a healthy diet, you'll achieve your weight loss goals in no time.
INSTANTLY SHAPES for a toned silhouette
COMPRESSION support for active workouts & daily wear
SAUNA-LIKE experience turns up the heat on every workout
ACCELERATES natural body heat to promote sweat & weight loss
LIGHTWEIGHT material is flexible and comfortable
Get in Shape & Look Great
Beyond just sweat, we realized that confidence and getting in shape go hand in hand. Have you ever felt self-conscious about working out in front of others? We did, and that's where Sweat Shaper's performance compression fabric comes in. Put it on, and it instantly slims you down. It compresses the problematic areas around your waist and belly for a smooth and flat look that ordinary workout belts, sauna belts, waist trimmers, and waist cinchers simply cannot provide. With Sweat Shaper, you can fit in that tight pair of pants that you've been avoiding to try on and give you the added incentive you need to reach your weight goals in no time.
Comfortable & Versatile
Lightweight and flexible, Sweat Shaper allows for the full range of motion of your body due to its ergonomic design. With a higher stretch value when compared to other waist trimmers, waist trainers, slimming belts and sauna belts, Sweat Shaper won't get in the way of you performing at your best. With compression throughout, Sweat Shaper will support and protect your core muscles and let you move freely. Mobility meets breathability for a quick-drying effect that ensures you always feel fresh. With its discreet design, no one will know that you're wearing a waist trimmer!
Sweat More & Get Results
Sweat will literally be falling off your stomach, love handles, waist, and other problem areas that you can't seem to lose fat from. As long as you're sweating, the Sweat Shaper Waist Trimmer is working. Whether you're exercising, running, or anything in between, you can turn up your workout without extra effort. Let Sweat Shaper do the work for you and watch as you sweat more and shed pounds faster.
Typical Neoprene Garment
Promotes Sweating
✓
✓
✓
✓
✓
✓
Chemical Off-Gassing Odor
X
✓
X
X
X
X
Heat Trapping Polymer Fabric
✓
X
✓
✓
✓
✓
Performance Compression
✓
X
✓
✓
✓
✓
Instantly Shapes & Slims
✓
X
✓
✓
✓
✓
Lightweight
✓
X
✓
✓
✓
✓
Flexible & Comfortable
✓
X
✓
✓
✓
✓
Quick Drying
✓
X
✓
✓
✓
✓
Anti-Slip Waistband
✓
X
✓
✓
✓
✓
Machine Washable
✓
X
✓
✓
✓
✓
weight loss gadgets,#Sweat #Shaper #Waist #Trimmer #Women #Waist #Trainer #Sauna #Belt #Neoprenefree #Waist #Cincher #Sauna #Slimming #Belt