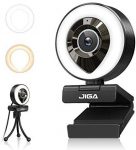 Streaming Webcam with Dual Microphone 1080P Adjustable Right Light Pro Web Camera Advanced Auto-Focus with Tripod JIGA Zoom Camera Gaming Webcam for Xbox Facebook YouTube Streamer Conferencing

Price:

$36.99




Product Description
JIGA Webcams are a popular – and convenient – option for live streaming.
The JIGA Streaming webcam with ring light is one of the most popular webcams on the market – with good reason. It supports 1080p30 streaming and features autofocus as well as light correction technology that adjusts your video on the fly to match the conditions in your room.
Frequently Asked Question (FAQ)
Q: Is this webcam transmitting video fast?A: Yes, the size of the file is compressed during transmission, which increases the transmission speed, but the resolution does not change.Q: Will it work with PS4?A: Yes, this camera has a wide range of compatibility, it runs on Windows 7, 8, 10, Mac OS 10.8 onwards. It can also run perfectly on xbox one, live streaming, PS4Q: What is the fill light effect of this cameraA: The effect of the fill light is very obvious. In a slightly dark working environment, by adjusting the brightness of the fill light, you can more clearly show the face profile and show your best image to the other party.Q: Will this work with FaceTime and Skype?A: it works very well with Skype and FaceTime and other Video software.Q: How good is the sound quality? How well does it pick up my voice? Is it clear?A: The microphone of this camera uses directional capture technology to capture the sound information from the front, the sound/recording of this is very clear
Noise-Cancelling Technology
Great for webinars, video conferencing, live streaming, etc. The built-in Noise-canceling microphone reduces ambient noise to enhance the sound quality of your video. Even in noisy surroundings, you can capture the sounds you want.
Forward Microphone
Noise Reduction
Directional Sound Capture
Real Sound
2021 NEW WEBCAM WHIT RING LIGHT JIGA

1080P Stream Webcam with Low-light Correction
Built for business, this webcam delivers 1080p live streaming. It's also equipped with low-light correction Technology, which automatically controls exposure for brighter, more colorful video.
Professional Metal Tripod
JIGA streaming webcam is equipped with a 4.3-inch metal stander, which can be adjusted in height and angle. It is suitable for placement on the desktop and can meet the needs of customers during meetings, games, and live broadcasts.
1080P Full HD
Streaming Ring Light
Directional Microphone
360° Rotating Base
Multi-Purpose Accessories
Touch Switch Regulating
Plug & Play Installation
Simply plug the webcam into the USB port of your laptop/ desktop/ PC and it will be instantly installed. No extra drivers are required. According to your needs, you can put it on the table and also be placed on the monitor
Wide Compatibility
USB 2.0/3.0 Plug and play, Get up and running immediately without having to install any drivers. Simply connect this HD webcam 1080p to your computer, laptop, PC, Mac, Android v 5.0 or above, Chrome OS etc. supports Skype, OBS, XBox One, Youtube, Facebook, Live Streaming, Face Time, Hangouts, Xsplit, Mixer.
Privacy 360° Rotating Base
Equipped with a multifunctional base, 360° rotation in the horizontal direction and 100° adjustment in the vertical direction, which can protect privacy when not in use. The base is easy to install and has multiple uses
H.246 Smooth live Stream
Faster uploads with H.263 encoding occupying half the space to deliver the same quality video, able to record smoother video without freezing
1080P HD&Light Adjustment
Using a Two million high-definition pixel lens, real 1080P high-definition effect, The image is clear and natural, the fill light uses 24 LED lights, and the brightness is adjusted through 3 levels, According to different environments, choose the best fill light effect
Best Len Angle & Auto Focus
The camera angle uses a 90° wide-angle camera, very suitable personal meeting viewing angle, best user experience, Auto-Focus function catches ideal focus positions as you move, making it easier for you to get clear images/ videos.
Image Sensor
1/2.9" 1/2.7"
Effective Resolution
1932(H)×1088(V)
Effective Pixels
2.0 MegaPixels
Signal to Noise Ratio
> 50dB
Video Frame Rate
30FPS
Field of View
90° angle
USB Cable Length
1.5m (4.92ft)
Video Stream
H.264:[email protected]
Fill light
24 lights -white/warm light-*3.2μ
Work Environment
-20℃ — 60℃
Item Dimensions
7*5.5*9 cm (2.76 *2.17*3.54 in)
Working Voltage
DC5V/60mA ±6mA
☀️【Warm & White Light Adjustable】2021 updated the full HD 1080p webcam has built-in ring light and Warm & White light with 24 LED. The brightness can be adjusted through the sensitive touch control, so you can achieve ideal brightness conditions in dim light environments.
☀️【Webcam with Dual Stereo Microphone】USB Webcam with light is an improved dual digital stereo audio microphone, and automatic noise cancellation for a cleaner, clearer sound that captures your sound even at a distance of 10 feet to ensure that everyone can hear the real sound, your fans can capture your voice in real-time.
☀️【1080P Full HD Webcam & Protect Privacy】Professional 1080p web cam with 90° wide-angle lens. The maximum resolution is true-to-life 1920 x 1080 pixels for clearer display effects. The computer camera can be rotated 360° in the horizontal direction and 100° in the vertical direction. We can easily adjust the angle when not in use to protect our privacy.
☀️【Multi Accessories and USB Plug & Play】JIGA streaming webcam includes the flexible clip and adjustable tripod for optimal viewing angle and base on most displays. Easy to use, no other driver or software need to download. Plug and play via USB 2.0/3.0 interface.
☀️【Wide Compatibility】The webcam with microphone supports live streaming on social gaming & entertainment sites, such as Twitch, Zoom, Skype, Youtube, Xbox one, Xsplit, Mixe, Facebook, Vlogging, OBS, and universally compatible with Mac, Windows, Android, Linux, Laptop, Desktop, etc. While easily record video and sound clearly and realistically.
camera for pc,#Streaming #Webcam #Dual #Microphone #1080P #Adjustable #Light #Pro #Web #Camera #Advanced #AutoFocus #Tripod #JIGA #Zoom #Camera #Gaming #Webcam #Xbox #Facebook #YouTube #Streamer #Conferencing