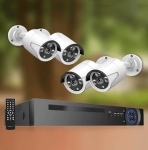 Expired
Stalwall N1 H.265 Outdoor Waterproof IR Home Security System CCTV Video Surveillance NVR 8CH 1080P 2MP POE Security IP Cameras Kit

The fundamental capacity of NVR is to get the computerized video transfer sent by IPC (network camera) hardware through the organization, and store and oversee it, in order to understand the conveyed engineering advantage brought by the organization. To put it plainly, through NVR, you can see, peruse, replay, oversee and store numerous organization cameras simultaneously. Dispose of the PC equipment, and no longer need to confront the dull establishment of programming.
Three Features of NVR
1. Video recorder.
2. Work with network camera or video encoder.
3.To realize the recording of digital video transmitted over the network.
H.265 2MP POE NVR Recorder
Power supply: DC 48V
Video compression: support H. 265 / H. 264
Coding capacity: 8CH 1080P or 4CH 5MP / 4MP / 4K
Video output: HDMI, VGA
Network interface: RJ45
Recording mode: manual/action/schedule/P2P remote view
Hard disk (HDD) : 1 * SATA port (up to 4TB)
P2P remote view: support Windows PC, iOS, Android Mobile
Support for multiple languages: Russian, English, Italian, Spanish, French, etc
H.265 2MP waterproof POE camera
Resolution: 2MP
Minimum illumination: 0.01Lux @ (F1.2, AGC ON), 0.001 Lux and IR
Noise reduction: supports 2D / 3D
Digital WDR: support
Low intensity of illumination
Camera lens: 3.6 mm lens
Number of infrared LED: 3 infrared LED arrays
Interface communication: 1 x RJ45 10M / 100M adaptive Ethernet interface
Each camera includes waterproof connections and screws.
Remote control powered by 2 x AAA battery ( not included )