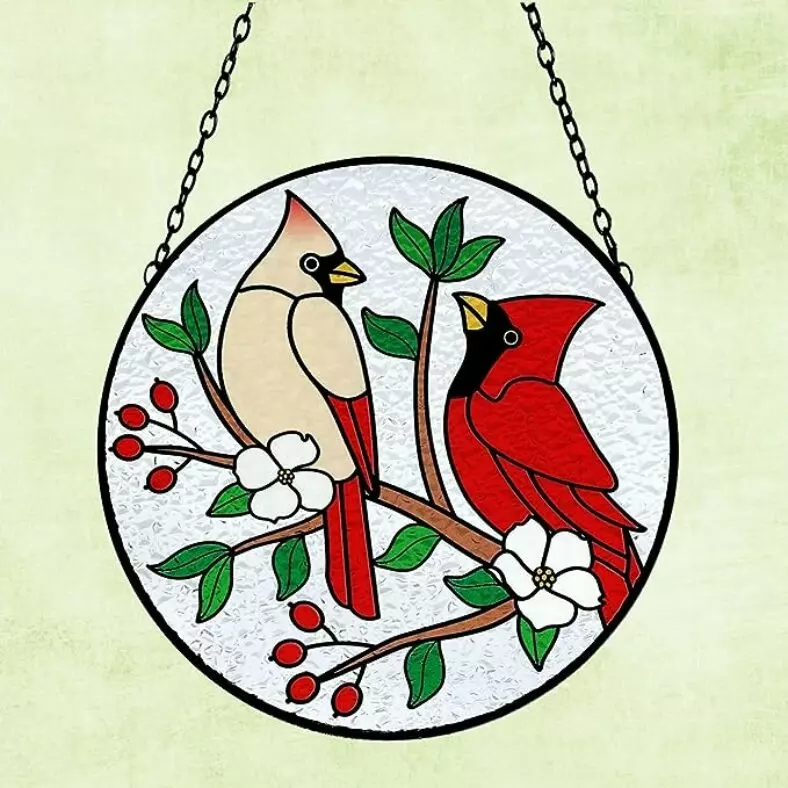 Stained Glass Window Hanging, Bird Suncatchers for Windows Double-Side Multicolor Birds High Stained Glass Suncatcher Window Panel Bird Window Hanging Suncatcher Personality Ornament Decoration
【Cute Oranments】Personality birds stained glass window hanging suncatchers are perfect home window decorations, bird suncatchers for windows are decorated in bright colors, and colorful patterns can always be seen from the inside out, illuminating life.

【Good Meaning:】When the new day comes, stained glass window hanging birds always bring good luck first. Birds are traditionally regarded as souvenirs for their loved ones and a symbol of pure love. They seemed in the sky and accompanied by beautiful feathers in the sun.

【Unique Memorial Gift】Stained glass window hanging are great decoration for home, office, shop, restaurant, window display, coffee shop or wedding party decoration. There is no doubt that stained glass bird suncatchers for windows is a unique memorial gifts for bird lovers.
【Colorful Transparent Hangings】Stained glass window hanging made of high-quality resin material, not just printed on poorly cut out metal, it is safe and durable, and sun catchers not easy to corrode.The transparent painted window suncatcher shape will present a very good effect in the sun, making the whole window look colorful.
【Guarantee & Service】 We offer you 100% risk-free satisfaction guarantee to let you buy with confidence.If for any reason you are not fully satisfied about suncatcher for window, contact us for the first time, we will do everything we can help. Including returns and exchanges.