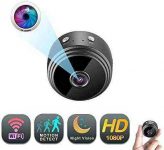 Spy Cameras with Audio and Video | Nanny cam | Spy Camera | Hidden Camera | Spy cam | Cameras for Home Security | Hidden Camera with Audio Live Feed WiFi | Mini Camera | Wireless Camera

Price:

$29.95




Features
● 720P or 1080P video recording mode available.
● Take pictures and videos and save them directly on your phone library.
● Night vision: enhanced by 6 infrared lights for powerful night vision up to 6 yards.
● Motion detection with phone alerts. Sensitivity and detection area can be set up on the app. Each time the camera is triggered a picture is taken and saved in a log that can be reviewed later on.
● 150° wide angle lens.
● Multi camera view: see multiple cameras live feed at the same time.
● Multiple users: multiple users can connect to the camera.
● Built in rechargeable battery last 1 hour on a full charge.
● Loop recording with playback. All video can be stored on an SD card (not included).
● Phone app: HIDVCAM, very stable and bug free. Be aware of the ratings on the Apple or Google Stores. Others camera manufacturer are using the same app, but their products are not properly integrated with the app, which explains some of the lower ratings.
● Full spy mode: turn off the LED light so the mini spy camera becomes invisible in the night.
● Clear instruction manual and easy set-up (camera only compatible with 2.4 GHz wifi network).
Package Includes:
● 🎁 Nice packaging ready to gift to someone. 🎁
● 1x Mini Camera.
● 1x Mounting Bracket.
● 1x Magnetic disk with double sided tape.
● 1x USB Charging Cable.
● 1x Rigid Mini USB Charging Cable.
● 1x Instruction manual for easy set-up. ⚡ Check out the "Videos for this product" section at the bottom of this page for more details. ⚡
【 HIDDEN CAMERA WITH AUDIO LIVE FEED WIFI 】 Connect with your phone to your wireless spy camera and get access to live audio and video feed. ⚡ Only 2 minutes to set-up the camera. ⚡ Check out our video in the "Videos for this product" section at the bottom of this page. ⚡
【 MOTION DETECTION AND NIGHT VISION 】 Ultra sensitive motion detection with phone alerts for extra safety, and 6 built-in infrared lights for clear night vision up to 20 ft. Both can be enable wherever the camera is plugged in or not.
【 LOOP RECORDING 】 Continuously record the videos on an SD card (not included) so you can review what happened in the past hours or days. Camera last 1 hour on battery only or 60 hours on a 20,000 mAh power bank. And of course for ever when plugged into a power socket.
【 ACCESS YOUR CAMERA FROM ANYWHERE 】 Once connected to Wifi, you can give access to the camera to other people and connect to it from anywhere in the world.
【 KEEP AN EYE ON WHAT IS IMPORTANT 】 Our small secret camera allows you to check on your nanny, your loved ones, your pet or anything else in total discretion. And with the 150° wide angle lens you will not miss a thing.
camera,#Spy #Cameras #Audio #Video #Nanny #cam #Spy #Camera #Hidden #Camera #Spy #cam #Cameras #Home #Security #Hidden #Camera #Audio #Live #Feed #WiFi #Mini #Camera #Wireless #Camera