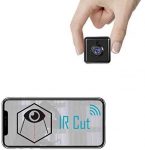 Spy Camera WiFi Hidden Mini Camera – Real 1080P HD Wireless Nanny Cam Portable Indoor Outdoor Security Camera with Phone App, IR Cut, Night Vision, Motion Detection Smallest Cam A22 Pro [2021 Newest]

Price:

$49.98




Product Description
Professional Grade Mini WiFi Camera in the World – AREBI A22 Pro

With IR Cut (Infrared cut-off filter), the latest Battery Technology, Upgraded Motion Sensor and Night Vision, this newest spy camera of 2021 – AREBI A22 Pro, is the perfect option if you are looking for a ultra-compact, high definition, WiFi live streaming video camera without breaking the bank. Connected to your home or office network (2.4GHz only), the camera could live-stream decent footage in full 1080P and 150 degree wide view, accessible anywhere in the world via the free app which you can simply download (compatible with both iOS & Android devices) to view and control your camera, and get live notifications straight to your phone. Therefore, you can monitor any activities inside your property using this nanny camera.
Not only can you start and stop recording video directly from the app, but also you can choose whether you want to save a video on your smartphone, or cloud storage, or locally in the micro SD card inserted in the A22 Pro.
You can keep an eye on your family, backyard, garden, warehouse, home, and office or anywhere you want to see with this mini WiFi camera. One App can add multi cameras. Multi viewers can watch simultaneously.
IR Cut (Infrared Cut-off Filter)

AREBI A22 Pro is the first mini size camera with IR Cut (Infrared cut-off filter) which is used for big security camera in the past. With AREBI years' research, we develop mini IR Cut and get it integrated into this new mini camera A22 Pro successfully.
IR-cut is a mechanical shutter design. It is placed between the lens and the image sensor, and is controlled by a motor. It is designed to block or deliver the infrared in order to provide a true color reproduction high-quality image at day and night.
Auto Night Vision with Enhancement

The best night vision performance and experience with the help of IR Cut and new technology on IR Night Vision solution – defeating all other mini size cameras in the market.
This mini camera contains 6 invisible 940nm Infrared LEDs and Light Sensor: Hidden IR Lights Design, Totally Invisible IR Lamp Beads (No Glow), Amazing 30 feet range, Auto On/Off, Image Staying Clear. So you can capture anything you want even when it's totally dark. It is ideal to protect yourself and your family day and night 24/7 letting you have a peace of mind.
Motion Activated Push Alerts/Alarm
The free Android/iOS App allows you to do more than just stream and record the video, you can also set it to alert you every time the mini camera detects movement.
The sensors will be activated when there is motion in a room and you can access the app to live stream and check what is happening. Keep an eye on your loved ones and your property.
Wide Field of View & Full HD 1080P
The mini spy camera has a pretty nice viewing angle as wide as 150 degree, so you don't have to worry about the entire scene being captured.
Capable of capturing high definition videos with real 1080P resolution which is pretty clear and full of details. The spy camera also gets the best video quality with low light totally beyond your expectations.
Micro SD Card Recording Locally
Simply insert a micro SD card 128GB Max (not included) to record without WiFi like a regular camera. It will start loop recording by default. You can change it to motion activated recording.
The app allows you to playback or download any files from the camera straight on your smartphone, without needing to remove the SD card or bother with cables.
Cutting-edge Technology on Battery
Despite super mini size design this spy cam is equipped with built-in quality rechargeable lithium battery of 1100mAh. With the Newest Battery Tech, the camera can work amazingly about 4 hours on a single charge – a great breakthrough for such a tiny camera. You will never worry about running out of battery power because the camera can also record and charge simultaneously. Just get it plugged in to work 24/7.
Pretty Easy to Use

The strong built-in magnet allows you to attach this mini spy camera on any metal objects. Just look for a perfect spot and set it up – super easy to install. With the offered magnetic mount you can install the camera to any surfaces or adjust the angle manually as you want. Use the adhesive steel tab you can also wear it as a body camera. The super mini size design enables the camera to be built into common objects around the home or office, or hidden in plain sight. All the status LEDs can be turned off so no suspicion while recording.
Setting it up is surprisingly easy. Simply go through the offered user guide to get the camera ready. The mini spy camera is perfect for watching over your home or office when you are away, or as a nanny cam, for monitoring caregiver, employee or potential Burglar, or an office monitoring solution, or for law enforcement agents, government agents, private investigators, corporate security managers, retail loss prevention and more.
Small but Full-featured

Missing belongings? Find out immediately who has taken your things and record it as proof!
Monitoring employees? You can evaluate their performance on a continuing basis!
Getting Harassed? Get the evidence you need discreetly. Keeping an eye on caregiver? You can evaluate your caregiver's performance and enable you to see how they really care for your children.
Watch your pets! We all know pets are goofy animals and nothing is more fun than to record or check up on your furry friends while you're away. Maybe your video will go viral!
Watch over your kids. Always know what's happening with your family at any moment! Are they going to bed on time or eating cake on the couch! You will feel better knowing that your children are safe and being cared for.
Elderly safe? Life can be dangerous for the elderly and it's easy to watch over them live with a nanny cam. This can be done every day or as a periodic spot check.
There are many more uses for this AREBI mini spy camera A22 Pro like:
Catch a Cheater – Find out if your Husband or Wife or Boyfriend or Girlfriend is cheating; Prevent internal and employee theft from home or business; Private Investigator and Detective Work; Law Enforcement Hidden Camera Surveillance; Undercover Investigative Reports Hidden Camera TV News Stories; Candid Camera and Hidden Camera Videos and TV Shows; Scientific Research Experiments Human Subject Monitoring; and more…
Mini Hidden WiFi Camera of 2021 the Latest – A22 Pro: With the latest technology and innovations, this mini WiFi camera is the 1st one with Infrared cut-off filter (IR Cut) in the world. It is small but has full features: 150° Wide Angle, Full 1080P Live Video, Auto Night Vision, 1100mAh Battery, Motion Activated Push Alerts, Record while Charging etc. With it you can monitor your daily needs such as: home and office monitoring, nanny cam, elder care, pet cam, cop cam and many others.
Super Mini Spy Camera of Wide View and Crisp HD 1080P: The hidden spy camera comes with 150 degree wide angle viewing lens that gives you a full view of the space. It also records vivid 1080p Full HD video, capturing faces and other important details clearly from across a large room. The mini surveillance camera also works great under low light conditions. You never have to worry about missing something important with this tiny new cam.
Small WiFi Camera with New Tech on the Battery: This hidden nanny camera uses the latest tech and houses a quality rechargeable 1100mAh lithium battery that can last for about 4 hours of continuous recording per single charge. In addition, the camera can also record and charge simultaneously so you will never worry about running out of battery power. While charging by portable battery pack or AC power this mini camera can work around the clock, 24/7.
Upgraded Night Vision and Motion Activation: Featuring 6 enhanced 940nm infrared IR lights the new small nanny camera can record everything you need even in total darkness. With the intelligent motion sensor this small WiFi camera will start recording when there is motion, so you don't have to watch useless materials when reviewing the captured video. You can also have the app alert you by push notifications whenever the camera detects motion.
Best Hidden WiFi Camera of Mini Size and Ease-to-Use: This tiny covert camera should be the smallest WiFi spy camera around the world – only a 1.22 inch cube. It can be easily hidden in ordinary objects around the home or business. The built-in strong magnet lets you attach this live streaming camera on any metal. It also includes mounting accessories so you can attach the spy camera to other surfaces with no hassle or wear it as a body cam. Only 2.4GHz network compatible.
portable camera,#Spy #Camera #WiFi #Hidden #Mini #Camera #Real #1080P #Wireless #Nanny #Cam #Portable #Indoor #Outdoor #Security #Camera #Phone #App #Cut #Night #Vision #Motion #Detection #Smallest #Cam #A22 #Pro #Newest