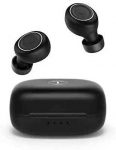 Smallest True Wireless Earbuds, ABRAMTEK E8 Mini Bluetooth 5.0 Headphones, Tiny USB-C Charging Case, IPX7 Waterproof, Stereo Earphones for Sports Workout

Price: $49.99 - $39.99


Product Description
Smallest True Wireless Earbuds
Single earbud weighing a mere 3.6g, just as light as an A4 paper, offers you a more comfortable wearing experience with no weight burden to your ears, no matter how long you listen.
Tiny USB-C Charging Case
Rechargeable mini charging case at just 5x3x2.5cm, it is an ultra compact size that can be easily taken either in your pockets or small handbags, allowing you to recharge the TWS headphones anytime.
IPX7 Protection
iPX7 waterproof provides sweat guard protection for the wireless earbuds against rain and sweat, so that you can work out at the gym or enjoy your favorite sports with wireless audio always around.
Unbreakable Connection
Latest Bluetooth 5.0 instantly connects the headphones to your smart phones and maintains a stabler wireless connection. Built-in noise cancelling microphone ensures high quality call performance.
Exceptional Clarity
The E8 stereo earphones provide incredibly clear mids and highs, authentic-sounding and astonishing vocal range. You'll hear the delicate details across the entire audio spectrum.
Well-Balanced Sound
Coupled with exclusive tuning system, this small Bluetooth earbuds deliver balanced sound for bass, mids, and highs. With E8, enjoy crisp rich and balanced sounds anywhere anytime.
Exceptional Comfort
Ultra light-weight and small compact size that fits ears of all shapes and sizes. Ergonomic design keeps the wireless earbuds sitting securely in your ears.
Random Use Single Earbud
Unlike other wireless headphones work in a master/slave mode, Abramtek E8 allows each earbud working individually. Just random pick one to use right away, either left or right.
What You Get
USB-C charging cord provides fast charge to the BT earbuds. Choose from S/M/L eartips to meet your personalized comfort. For immersive audio experience, you may try the round radian eartips.
Well-Balanced Sound: high performance speaker units integrated with exclusive tuning technology, the E8 stereo earphones deliver balanced sound for bass, mids, and highs. You'll hear authentic-sounding, delicate details and broad vocal range across the entire audio spectrum.
Easy to Use: the Bluetooth earbuds will automatically stereo pairing when taking them out of the charging case. Latest Bluetooth 5.0 enhances the signal transmission and provides faster and stabler connection ensures you a much better wireless audio experience. Built-in noise cancelling microphone guarantees high quality call performance.
Secure Fit: ergonomic designed to comfortably fit into your ears. Supplied S/M/L size eartips offer you personalized comfort. Take on intense workouts or cross bustling city streets knowing your earbuds will stay firmly in place. This mini earbuds deliver 3-4 hours of wireless playtime from a single charge and an extra 10 hours from the tiny charging case.
Random Use Single Earbud: upgraded technology allows you to random pick one earbud(either left or right) for instant use when you are driving on the road or working in the office, with no need to worry if it's the master earphone and working right away.
airphones,#Smallest #True #Wireless #Earbuds #ABRAMTEK #Mini #Bluetooth #Headphones #Tiny #USBC #Charging #Case #IPX7 #Waterproof #Stereo #Earphones #Sports #Workout