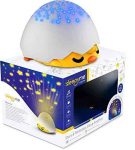 SleepyMe Smart Sleep Soother | White Noise Sound Machine | Baby & Toddler Star Projector | USB Cord or Batteries | Runs 30min, 60min or All Night | Baby Gifts | Portable Sleep Aid Night Light for Crib

Price: $54.99 - $49.99


Product Description
Well-Rested Families are Happy Families

SleepyMe was developed by parents for parents as we know first hand the challenges of sleep training and setting a healthy bedtime routine. We have searched for solutions all over, until we decided to take matters into our own hands, which led us to create SleepyMe!
SleepyMe is an adorable chick that is super smart too. Based on technologies we enjoy using daily, we wanted to translate those experiences into a sleep soother that both parents and little ones would love. It's innovative like none other nursery toy or baby sleep aid available today. We can't wait for you to meet SleepyMe!
Lullabies & Sounds
Ten high-quality and multi-instrumental sounds that can be played in sequence or in repeat mode.
Melodies include both classic and unique tunes: Bach's Minuet, Twinkle Twinkle Little Star, Rock-a-bye Baby, Brahm's Lullaby, Somewhere Over the Rainbow and Mozart's Eine Kleine Nachtmusik.
Nature sounds include Magical Forest, Spring Lake, Heartbeat Sound Machine and White Noise Sound Machine.
Stars & Moon Projection
Bring the serene starry night sky indoors with three colors of projection: Blue, Green and Orange.
To catch your baby's attention and interest, select the run-all mode that will softly rotate between all three colors.
SleepyMe's shell is round, enabling the star projection to fill out the entire room from walls to ceiling, creating a soothing atmosphere for your little one to gently transition into sleep.
Flexible Time Settings
SleepyMe empowers you to personalize your family's bedtime routine and adjust to their changing needs.
The timer controls the functions you have selected and it can be adjusted at any time during operation.
For your convenience, all programs can be set on continuous play, for all night soothing or to turn off automatically after 30 or 60 minutes.
Create The Ideal Sleep Environment For Your Little One

At the end of the day, your little one just wants a good night sleep and so do you. SleepyMe is here to the rescue! Designed for ease of use and friendly for both parents and kids, SleepyMe will fit right in with your family. It is created to provide the best possible sleep environment for your little one based on personal preferences and to accommodate different room types and sizes. Whether you have a newborn or a toddler, SleepyMe will make bedtime fun.
Grows With Your Baby
Every little one is unique and so is what helps sooth them to sleep. Preferences *are likely to change as they grow up.
Endless combinations of stars and melodies can be created and both volume and brightness levels can be adjusted. The star projector and sound machine functions can operate separately, as you have the choice of turning off each one of them without interrupting the other.
Create a new experience every night or find a combination you would like to repeat.
Safe and Easy
Designed in California and made in Korea, SleepyMe is BPA-Free and has no hazardous small parts.
To ensure hassle-free use, SleepyMe is operated via a USB cable or the most common 4xAA batteries. For long hours of continuous play, select the USB operated mode. For portability, select the battery operated mode that offers complete flexibility.
If cleaning is necessary, simply wipe the device down with a dry or slightly damp cloth.
Next Generation
SleepyMe is constructed from high-end materials, and will complement any nursery decor from traditional to modern.
For extra accents, SleepyMe's cute beak and feet are made out of soft rubber, ensuring it stays securely in place.
Being portable, SleepyMe can be placed anywhere around the house. Take SleepyMe along with you when traveling to offer a familiar and safe sleep environment for your little one, supporting a healthy sleep routine.
Parents "FAVORITE BABY GIFT" (USB Cable Included)

When a new baby joins the family*,* the importance of sleep picks up a notch. Make parents and babies happy when you gift SleepyMe Smart Sleep Soother, making it the center of attention. Perfect as a baby shower gift, a newborn baby gift and suitable as both a baby girl gift or a baby boy gift. SleepyMe's design is clean and sophisticated to fit any style. Endless combinations of lights and sounds make it easy to accommodate any preference and it comes ready to sooth, USB cable included.
👨‍👩‍👧‍👦 EASILY ADJUSTABLE – SleepyMe combines a sound machine and a multi-functional star projector with endless variations. Designed to fit any room condition and preference. Color, brightness, sound, volume level and time can be customized. Programs can be set to turn off automatically after 30 minutes, 60 minutes or play all night.
⭐10 CALMING MELODIES – 3 COLORS FULL ROOM STAR PROJECTOR – Sounds include MOTHER'S HEARTBEAT, WHITE NOISE, LULLABIES and NATURE SOUNDS that can be played in sequence or in repeat. The star projector offers three colors and run-all mode that softly rotates all colors.
🏆 SAFE BABY SLEEP SOOTHER – Your little one's well-being and safety are our highest priority. SleepyMe is a BPA-Free sleep soother. It's portable and offers both wired and battery operating modes. The touch buttons are designed that even tiny hands can operate and there are no hazardous small parts.
🎁 PARENTS "FAVORITE BABY GIFT" (USB CABLE INCLUDED) – SleepyMe comes ready to use and is suitable for newborns and kids alike which makes it the perfect long lasting gift. Great as a registry, babyshower or birthday gift. Your happiness is our #1 priority. If you are not totally satisfied, we will make it right.
baby gadgets,#SleepyMe #Smart #Sleep #Soother #White #Noise #Sound #Machine #Baby #Toddler #Star #Projector #USB #Cord #Batteries #Runs #30min #60min #Night #Baby #Gifts #Portable #Sleep #Aid #Night #Light #Crib