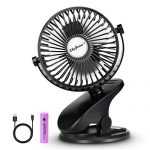 SkyGenius Battery Operated Clip On Baby Stroller Fan (Black)

Price:

$14.99




Product Description
– Clip-on & desktop
– Compact and portable
– 3 Adjustable speeds
– High quality and durable
– Lightweight and low noise
– Rechargeable battery powered, 2500mA
– 360 degrees vertical and horizontal rotation
Main Specifications

Battery Type: 18650 Lithium Battery(Flat type)
Battery Capacity: 2500mAh
Battery Time: 3~6 Hours(depends on different speed)
Full charging Time: 1.5-2hours
Input Voltage: 5V
Output Voltage: 4~6V
Output Current: 0.35~1A
Item Dimension: 5.5*8*3.4 inches
Max wind speed 16.5ft/s, while similar items on market are less than 10ft/s
Install the battery in right poles, wrong installation may result in not working.
Strong and flexible clamps, easy to use around.
Package
1 x Battery Fan
1 x USB Cable
1 x Rechargeable 18650 Li-ion battery
1 x User Manual
Easy to Use.
1. 3 speed adjustable. It's available to use the fan while charging.
2. The battery is flat type '18650 battery'.
3. 5V 2A adapter is recommended for faster charging.
Large Battery Life & Convenient Charging: Rechargeable 2500mAh 18650 battery ( INCLUDED ), 3~6 hours working time depends on setting speed. This battery fan can be charged via computer, laptop, USB charger, mobile phone adapter, car charger, mobile power etc.
Powerful Wind & Low Noise: High quality motor, max wind speed 16.5ft/s, strong airflow and low noise. This small fan clips tightly and is not easy to fall off, with a safe narrow gap design to protect your baby's fingers from moving fan blades.
Portable Size: 5.1*8*3.4 inches, net weight only 9.34oz, portability, handy, lightweight to carry or store. Narrow gap, the child's finger will not enter and touch the fan blades, safe to use.
Flexible Rotation: 360°vertical and horizontal rotation, increased area coverage, can feel cool from different angles.
baby gadgets,#SkyGenius #Battery #Operated #Clip #Baby #Stroller #Fan #Black