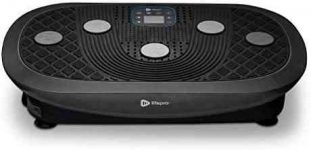 Rumblex Plus 4D Vibration Plate Exercise Machine – Triple Motor Oscillation, Linear, Pulsation + 3D/4D Motion Vibration Platform | Whole Body Viberation Machine for Weight Loss & Shaping.

Price: $374.99 - $318.74


From the brand
You've Got This!
Our story

How we got our start?
We are two buddies who not long ago suffered from severe ACL injuries just a few months apart. We founded Lifepro because no one should have to go on the recovery journey alone. We are a vibrant community where members can find all the support, guidance and motivation they need.
What makes our product unique?
Lifepro vibration plates provide whole body and multidirectional vibrations to calm the nervous system, drain the lymphatic system for improved metabolism and weight loss, improve bone density, and strengthen the core for greater balance.
Why we love what we do?
We love seeing the impact our products have on people's lives – the stories are truly inspirational and life-changing. Our mission is to impact one million lives, and we are a quarter way there!
ACCELERATES RELIEF, REHABILITATION, & REPAIR: The Rumblex Plus delivers efficient, gentle Whole Body Vibrations (WBV), waking muscles throughout the body and triggering myofascial release. This, in turn, enhances your body's built-in ability to regenerate cells and repair itself. Relief is felt from the first session, and continued, regular use builds up muscle tone, increases bone density, relieves chronic pain, repairs old injuries, and provides a greater range of motion as you improve.
CAREFULLY ENGINEERED FOR JOINT COMFORT: We designed Rumblex Plus with a revolutionary surface, calibrated to reduce stress on joints while still providing effective, healing, and comprehensive movements and vibrations.
3 TOP-OF-THE LINE MOTORS, 7 TRAINING MODES: We built the Rumblex Plus with 3 robust motors that deliver 4 dimensions of therapeutic vibrations. Depending on your injury and recovery goals and what you find most comfortable, you can choose between 3 distinct motions or any combination and pairing of the 3.
BLISSFULLY SILENT: Because most prefer a quieter home workout, we've eliminated all alarms and beeps from this model. And thanks to our platform's 3 whisper-quiet, top-of-the-line motors, the only sounds you'll hear are the ones you make as you sweat – unless, of course, you choose to stream music through the built-in Bluetooth speakers.
A LIFETIME OF RECOVERY: Every platform bearing our name undergoes rigorous scrutiny to make sure it delivers on power and efficacy and a built-in 100% MONEY BACK lifetime warranty so you're never left hanging.
weight loss gadgets,#Rumblex #Vibration #Plate #Exercise #Machine #Triple #Motor #Oscillation #Linear #Pulsation #3D4D #Motion #Vibration #Platform #Body #Viberation #Machine #Weight #Loss #Shaping