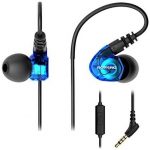 ROVKING Over The Ear Earbuds for Running, Wrap Around Ear Wired Sports Headphones for Workout Exercise Jogging, Sweatproof in Ear Earphones Ear Buds with Mic for Cell Phones MP3 Laptop, Blue

Price:

$13.99




Product Description
LIGHTWEIGHT & SMALL EAR BUDS DESIGN FOR SMALL EARS
These in-ear tpye wired earbuds are smaller than other running headphones. Once ear buds are seated in ears, you won't feel bulky, uncomfortable or hurt even after long time wearing. They are also lightweight and comfortable as gym headphones. Sometimes you will even forget you are wearing them.
SOFT & EAR SHAPE MEMORIZED EAR HOOK
The ear hook wire is ear shape memorized and flexible to work with different ear shapes. When wrapped around your ears, it gives you a customized and comfortable fit, even with glasses over ears.
DIFFERENT EARTIPS & SHIRT CLIP
There are 4 pairs of ear canal pieces for you to switch. Select the proper size and get the best seal and secure fit. A shirt clip is included to manage the length and avoid cable getting in the way while running.
STAY PUT IN EARS EVEN SWEATING
In ear angle is specailly designed to get secure fit. The loop aournd ear wire keeps these workout headphones stay in place even while sweating. They are also sweatproof exercise headphones, good for running, jogging, weight lifting, cardio, etc.
DECENT SOUND QUALITY
The sound comes out is loud and clear. Strong bass stereo makes the beats more energetic and activate you in sports. You can hear the music clearly even in noisy environments, like gym, fitness walk, subway/bus commute and flight trip.
CLEAR MIC & HANDS-FREE CONTROL
With the in-line mic and remote button, you can answer a call with your phone in an arm case while working out. The remote button also allows you to control the music track in your run conveniently.
51 INCHES/130CM CABLE
The cord is long enough to have your device in your pocket, or in front of you on the treadmill without feeling constricted. It is also thick and tangle free.
Compatible with audio devices with 3.5mm jack:
iPhone, iPod, iPad, MP3, Tablet, PC, kindle, Windows phones, Android phones like Samsung, LG, Nexus phones, and other Android devices.
Note: 1. Old versioin iPod might not support track control feature.
2. Need lightning to 3.5mm adpater to work with iphone 7 and above version.
3. You might have to fiddle around a bit initially to find a position which gives you the best fitment and audio response.
4. It's passive noise reduction, so won't block out noise completely. But if insert ear buds properly in ears with right tips and music on, external sound will be greatly reduced.
Ear Hook Design
✓
✓
✓
Swat Resistant
IPX5
IPX5
IPX5
IPX4
Connection
3.5mm plug
3.5mm plug
Bluetooth 5.0
3.5mm plug
Microphone
✓
✓
✓
✓
Controls
Tracks & phone calls
Tracks & phone calls
Tracks & phone calls
Tracks & phone calls
Ear Tips
4 pairs of diffrent sizes
4 pairs of diffrent sizes
4 pairs of diffrent sizes
4 pairs of diffrent sizes
SECURE FIT SPORT HEADPHONES NEVER FALL OUT OF EARS WHILE WORKING OUT- Thanks to pliable over the ear loops and ergonomic ear bud design, these workout headphones fit comfortably and stay put in ears while running, jogging, weight lifting, exercising, walking and gym training. No need to stop your workout to adjust the ear buds any more.
HANDS-FREE PHONE CALL AND MUSIC TRACK CONTROL DURING RUNNING – You can use the in-line button to answer/end phone calls. The microphone allows you to communiate hands free, so that you can keep on your exercise. There's a clip which will help you stabilize the set while doing different physical activities. You can also easily play/pause, skip music tracks through the remote button. No need to take out your phone from pocket or arm band any more.
GOOD SOUND QUALITY FOR MUSIC AND PHONE CALLS – The sound of these sport earbuds is clear and crisp. They are good for listening to music during workouts, as well as listening to audio books or video during commute. Call quality and mic is good. You can hear the person on the other end clearly even on a noisy treadmill. It is fully compatible with cell phones, mp3, smartphone, laptop, computer, tablet, psp etc.
SWEATPROOF EARBUDS FOR SPORT WORKOUTS – These workout earbuds are professionally designed for music listening requirement in sports, especailly for small ears. They should not fail or break even during intense workouts. These wired earbuds have a 3.5mm gold plated jack and are compatible with cell phones, tablets, MP3, laptop, computer, Android/Windows cell phones and others with 3.5mm audio jack (need ligtning adapter to work with lightning jack devices).
best headphone for mobile,#ROVKING #Ear #Earbuds #Running #Wrap #Ear #Wired #Sports #Headphones #Workout #Exercise #Jogging #Sweatproof #Ear #Earphones #Ear #Buds #Mic #Cell #Phones #MP3 #Laptop #Blue