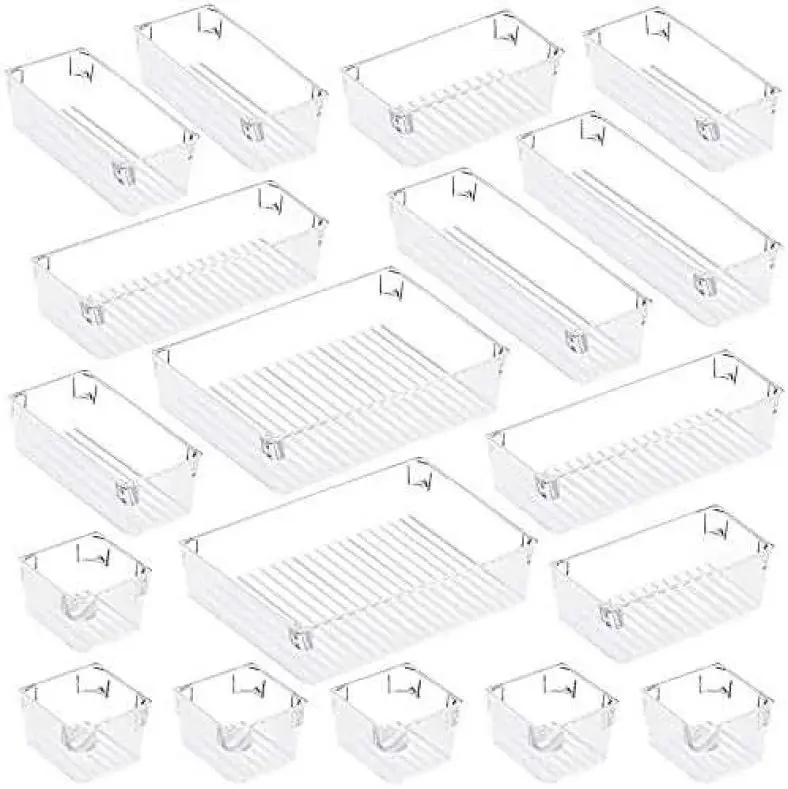 Puroma 18-pcs Desk Drawer Organizer Trays, 4 Different Sizes Large Capacity Plastic Bins Kitchen Drawer Organizers Bathroom Drawer Dividers for Makeup, Kitchen Utensils, Jewelries and Gadgets

Price:

$22.99




Product Description
More Practical More Assured
Committed to providing quality home improvement tools, Puroma continuously offers safe and reliable combination locks, bicycle accessories, and other home devices.
Puroma aims to develop more practical and creative innovations that cater to customers' needs.
Join us as we create limitless, powerful possibilities.
Puroma Desk Drawer Organizer

Save your time in searching for your tiny things and get away from anxiety.
Make different combination owning to our different sizes.
Durable, long-lasting plastic is easy to wipe clean.
Perfect for storing cosmetics, makeup tools, nail polish, jewelry, hairbrushes, medicine, kitchen utensil cutlery silverware, office supplies, etc.
Package Contain:
2 x Drawer Organizer (9.6''L x 6.4''W x 1.9''H)
6 x Drawer Organizer (6.4''L x 3.2''W x 1.9''H)
4 x Drawer Organizer (9.6''L x 3.2''W x 1.9''H)
6 x Drawer Organizer (3.2''L x 3.2''W x 1.9''H)
Dresser Organizer Tray
A necessary tip for beauty lovers. Categorize brow pencil, concealer, styling gel, mascara, etc in different sizes of bins quickly without effort.
Tool Organizer Tray
Help keep the tools organized, such as electric drill, screwdriver, wrench and etc. So you can easily get the items you want instead of digging all the items out from the stand.
Office Organizer Tray
This organizer is an attractive way to help maximize your space by keeping your stationery in order. Keep the desk tidy and do the best on study or work.
Versatile Drawer Organizer: These organizer trays are a lovely size to fit a wide range of drawers well, offer a generous capacity for storing almost everything from kitchen utensils and gadgets to toiletries or craft supplies.
Various Measures: The well made multiple sizes provide a nice way to customize your drawer layout. The size approx is 2 – (9.6'' x 6.4'' x 1.9''), 6 – (6.4'' x 3.2'' x 1.9''), 4 – (9.6'' x 3.2'' x 1.9''), 6 – (3.2'' x 3.2'' x 1.9'').
Durable Material: Made of premium clear and durable plastic makes it perfect for makeup, brushes, accessories, etc. You can itemize and separate your little things using these nice and sturdy containers.
Humanized Design: High visibility design makes everything far easier to find. The stackable design allows you to refine a category even more now in one easily viewed space.
Easy to Clean: Easy to wipe clean with a damp cloth and perfect for keeping everything in its place. Only water or a non-abrasive detergent is needed.
home gadgets,#Puroma #18pcs #Desk #Drawer #Organizer #Trays #Sizes #Large #Capacity #Plastic #Bins #Kitchen #Drawer #Organizers #Bathroom #Drawer #Dividers #Makeup #Kitchen #Utensils #Jewelries #Gadgets