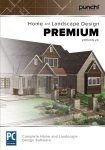 Punch! Home & Landscape Design Premium v20 [Download]

Price:

$99.99




Punch! Home and Landscape Design Premium v20
is the ideal program for the serious DIY person who wants comprehensive tools and capabilities to develop home plans and design interior rooms as well as landscaping options. This premium home and landscape design software suite combines all the materials, tools, textures, furnishings, and accessories that help make home design and landscaping projects a stunning reality. Use
Home & Landscape Design Premium v20
to plan a home update or design entire homes; kitchen renovations, bathroom renovations, basement remodels, and landscape; create outdoor living spaces, decks, patios, pools, and get fast results for serious DIY home projects.
Designing that dream home has never been simpler! Whether designing from the ground up, remodeling, or renovating, 
Punch! Home and Landscape Design Premium v19
will help bring that dream home to life! It's easy to get started with the QuickStart feature that can quickly drag and drop rooms to complete the layout. Need ideas? Use one of the editable professionally designed floor plans for inspiration and a fast start. Utilize the extensive library of brand name products, materials, furnishings and accessories to complete the ultimate design and then visualize the project in 2D, 3D, and then print professional plans.
New Features and Tools in Version 20!
New! 2D Engine –High Performance and High Quality Rendering for 2D Geometry and Text
New! Customizable Draw Styles
New! DWG/DXF Import and Export – Includes AutoCAD 2018
New! Modify Tool Bar – Align, Edit, and Distribute Images with Ease
New! Even More Custom Rich Text Options – Multiple Fonts And Attributes
Dream it! Design it! Build It! Live it!
Enhanced drawing tools, floor plans, brand name product libraries and other capabilities make creating 3D designs for new homes more efficient, easier and exciting than ever! Whether remodeling, renovating, designing or building a brand new house, Punch! Home & Landscape Design Premium v19 contains a powerful array of tools and features to help create unique, professional-level designs.
Helpful Help Features
Home & Landscape Design Premium v20 helps to quickly create 3D home plans and 2D home plans for kitchens, baths and landscapes with designer quality layouts that quickly drop into projects. Feature packed v20 includes thousands of materials, furnishings, accessories and over 1200 paint color choices to finish designs with the perfect touch. Version 20 goes the extra environmental mile with tips for "Building Green" and includes a selection of green objects and materials. To help with all this new designing power, v20 also comes with an Integrated Interactive Help System to make finding and using the right tool easier than ever as well as training center video tutorials and free technical support.
House Design Help from Rooftop to Basement
Auto Roof Gables and One Click Dormer Tool instantly adds gable walls, roof panels, and dormers.Once there's a roof overhead, the program helps add windows, doors, and walls from an extensive array of choices, then on to create kitchens, bathrooms and landscapes with professional designer quality layouts that easily drop into projects. No detail is left out as HVAC, electrical and plumbing tools are also included. To enhance every design, the program also features over 4870 3D furnishings and over 7640 materials, plus textures and paints. SmartWand™ technology adds paint or other material applications to a wall, room or entire house with one click.
About Punch!
Punch! Software launched with the premise that 3D design software should be just as fun as it is productive to use. With more than 3 million units of its Mac and Windows products sold via retail stores across the world and online, Punch! Software ranks as a best-selling home and landscape design software brand.
PC Minimum System Requirements:
PC Recommended System Requirements:

Processor: Intel or compatible 1GHz processor
RAM: 1 GB
Hard Disk: 3 GB
Video Card: VGA video card with 256 MB memory and at least 1024×768 and 32 bit color
Supported OS: Windows 10, Windows 8, Windows 8.1, Windows 7
Additional Requirements: Internet connection required for product activation, access to tutorials, and product updates.
Easy to use interface, design tools, drag and drop materials, furnishings and accessories (thousands to choose from) plus tips for "Building Green" with a selection of green objects and materials.
Save time and money by visualizing your designs in 2D and 3D and estimating costs before you begin.
Help when you need it! An Integrated interactive help system makes finding and using the right tool easier than ever. Includes online video tutorials, user forum and free technical support.
The Premium Series is for the DIY person who wants comprehensive tools and capabilities to develop home plans, design interior rooms and landscaping options.
home design,#Punch #Home #Landscape #Design #Premium #v20 #Download