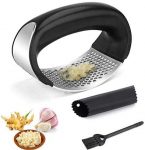 PSISO Garlic Press Rocker, Premium Garlic Press Stainless Steel, Garlic Crusher with Silicone Garlic Peeler/Cleaning Brush, Easy Operate and clean Kitchen Gadget

Price:

$3.59




PSISO Brand focus on garlic press! Let pleasure of cook always company you!
PSISO is aware of your needs and knowing you are long for better garlic press stainless steel! We hereby demonstrate our best garlic press for chef, foodie and garlic lover – save time and effort for you.
Garlic rocker absolutely safe, 100% Food grade stainless steel and Silicone materials.
The perfect arc design helps to produce a large number of cloves in a very short time, which can be done with a small amount of effort!
bigger and more holes make cleaning easier! making you love cooking more.
No more hesitation! Try it now! Say goodbye to garlic odor fingers!


Product Specification:
Product Material: Stainless Steel Garlic Press
Package Size: 4..48In x2.91In x 2.12In




Lifetime Guarantee:
PSISO provides a lifetime guarantee on our products. You will have full refund or return as you wish during the guarantee periods.


Package Includes:
1 x Stainless steel garlic press
1 x Garlic peeler
1 x Brush
1x Color Packge
NEW DESIGN GARLIC PRESS: This new garlic press with arc shape, comfortable handle design make squeezing a breeze, even for those with weaker grip or small hands.
PREMIUM STAINLESS STEEL: The PSISO Garlic Press is very durable, corrosion-resistant and will not rust nor break. the garlic peeler is made of high quality silicon,the use of food-grade environmentally friendly plastic, you can enjoy a happy cooking time.
CRUSH AND MINCE GARLIC EASILY: The garlic press- only aa slight back and forth rocking motion, easily crush or mince garlic ,silicone garlic peeler-simply place several pieces of garlic cloves in tube and roll back and forth, peel cloves in seconds.
EASY TO CLEAN UP AND STORE THE: Only simply rinse under running water or run through the dishwasher, Dishwasher Safe. wide using ideal for pressing garlic and ginger, perfect kitchen tool for home and restaurant.
100% SATISFACTION GUARANTEED: PSISO Team strives for 100% customer satisfaction with manufacturers provided lifetime guarantee. If there are any problems with our products, contact us and we would be very happy to solve your problems.
home gadgets,#PSISO #Garlic #Press #Rocker #Premium #Garlic #Press #Stainless #Steel #Garlic #Crusher #Silicone #Garlic #PeelerCleaning #Brush #Easy #Operate #clean #Kitchen #Gadget